Wednesday, May 05, 2010: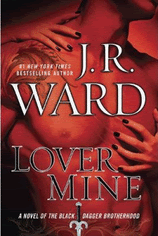 I decided I'm not even going to attempt to write a review of "Lover Mine", after all the amazing reviews that are already out there. I don't feel the need. But I will mention some of my favorite things about the book. So here we go....(and yes, there WILL be spoilers).
10. Mhurder. Okay the whole premise that brought him back to our attention was rather cheesy, and I didn't care so much for the whole haunted Inn thing - seems a bit lame for a Brother - but hey, how cool to have him return.
9. Wrath. I do so love the warrior king. His presence and leadership are vital to the Brotherhood, and I think he does an amazing job of dealing with all that on top of losing his sight.
8. Trez & iAm. These guys are mostly silent and deadly, and I love how protective of Xhex they are, even though they know she can fight. They don't try to stop her. It's like they're her family.
7. Doc Jane. Say what you will about her "appearance", she's one hell of a doctor and was really there for Xhex when she needed surgery and someone to turn to.
6. No'One. I felt for her the moment she showed up, and was saddened by the fact that she was considered "defective". Then to find out who she actually was...yeah that was good :)
5. Zsadist. Having his little talk with JM brought tears to my eyes, and made me love him more. Then when he walks away with a pink bib hanging out of his pocket - with a tiny skull & crossbones no less - I completely melted. He's still my favorite Brother.
4. Payne. I love how tough she is, how she fights being a subservient female. How she wants to learn to fight and get her chance to go to the Other Side. As much as I love the heroines of the BDB (and yes, I really do), it's refreshing to see females less likely to lean on her man and more likely to fight alongside him. Much like Xhex. And to never know her brother was alive....
3. Tohr. Oh man, it just about broke my heart to have him relive some of his memories about Wellsie. It really brought it home that she's not coming back. Yes this part made me cry. But he reconnected with JM and they're tight again.
2. Qhuay (aka Qhuinn & Blaylock). Though they've hit a rough patch, I really liked seeing that finally things are coming to a head (but not the right one(s) at the moment). I think it was time Blay gets a little pushy and demanding, with the way Qhuinn is sexxin' left & right. And the fact he's found someone, albeit not the best someone to turn to, he's trying to possibly move on with his life. My biggest regret that most likely JR Ward will not give them a full, 500+ page book of their own, so I hope she really does it up right.
....and the number #1 reason I loved Lover Mine....
1. John Matthew & Xhex! Yes, these two crazy kids are amazing together, and though they've been through some ugly, heartbreaking, brutal times, they found their way back to each other. It was nice to see a bit of the softer side of Xhex, but that the fighter in her will never go away completely.
Thank you JR Ward for finally bringing the BDB back to the wonderful world it once once
and giving us a story to truly love!

Labels: JR Ward