Monday, May 03, 2010:
I saw this article last week about "19 Things You Should Never Say to a Single Person" and it kinda made me laugh. A lot of us have been there, and okay, some of us are still there. You know, that scary place called Singledom, that often times lonely island where married or committed folks give you weird looks like there's something wrong with you, and they're afraid to get too close or else they'll catch it.
No surprise I'm sure, that I live on Planet Singledom. For the most part, I like living here. I don't have to compromise. I can spend my money on me, me, me. I can be messy, take naps, and don't have to talk to anybody if I don't want to. LOVE all that. Of course that doesn't mean I wouldn't like to find someone special, because deep down I am a romantic at heart, and I think sometimes it would be nice to have someone to lean on from time to time. And then there's sex, which can be a whole lot nicer with someone else ;) I've never been the dependent, clingy type, so that might take some getting used to, but to have a guy bring me breakfast in bed or start up my car on a cold winter morning wouldn't be such a bad thing. (I think a single woman must have invented automatic car starters *g*). Someone to go to hockey games with and maybe dare me to actually take those skydiving lessons I keep saying I'm going to take but am too afraid of heights to actually do by myself.
But yeah, being single isn't the worst thing in the world.
The times it really bothers me is when I hear one of those comments:
So, why are you single? (mostly by personal choice)




Are you a lesbian? (nope, but so what if I were?)




There must be something wrong with you. (wow, thanx).




You're not getting any younger. (um, hello, not dead yet; my life's not over).
As I mentioned in a post from last week, it's not like I'm sitting at home waiting for some guy to come "rescue" me. I have some things planned this year, and hope to start taking a wine appreciation class, just because I've recently developed a previously non-existent interest about wine. And most likely the type of guy I will meet in those kinds of places will not appeal to me anyway. I don't plan on doing things that don't really interest me just so I can find me a man. That kind of behavior doesn't work for me anyway. For those women who work it, good for you. Be proud *g*
Besides, whenever I start feeling sorry for myself, I think of my friend B, who has 3 kids by 2 different fathers and is currently dating an unemployed guy who tried to hook up with her when his girlfriend was lying in the hospital in a coma (she later died from alcohol poisoning), and who's previous "boyfriend" broke up with her on Valentine's Day AFTER they had sex. Niiiice. Yep, now being single ain't quite so bad.
So no, I'm no Samantha from "Sex and the City", but I'm no crazy cat lady either. I'm in the happy middle somewhere, and there are certainly worst places to be.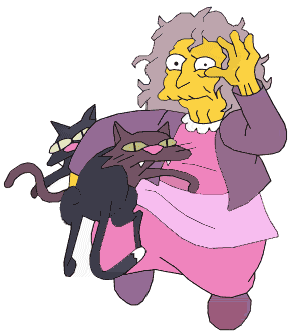 Single ladies: what's the worst comment you've heard about being single?
Married ladies: what's the worst thing you've heard about marriage?