Monday, April 26, 2010:
Hi all! I'm really excited to be posting pics from this past weekend, though I think I seriously need to stop taking pics with my iPhone. I had intended to pick up a new camera this weekend - but I ended up having a lot going on - a work dinner Friday evening, then errands Saturday morning, and then I headed over to the Hyatt in Deerfield where the event was being held. Poor time management on my part.
Anyway, I met up with Lindsey in the lobbry and we hung out for most of the time. She's so sweet and fun to be around, and I'm bummed I didn't get a picture of her. Despite being tired, she still had a lot of energy. I also got to meet her friend Kim Castillo, who was hilarious and extremely passionate about books and the authors she works with.
Here are some of the sights I saw while at the Chicago Spring Fling booksigning:
I've only read one book of hers, years ago, which I really enjoyed. So much so that I don't know why I never continued with the series. One of those reading mysteries that can't be explained, I guess....
Elizabeth is a doll, and it was lovely seeing her again. I'm a fan of her Prince series - which is going to be re-released later this year in some very pastel colors, which seems a bit misleading, since the series is rather dark, more gritty. I also have read 2 of her Four Soldiers books and enjoyed them as well. Which reminds me, I need to finish the other two....
It was such a pleasure meeting Carrie! I got her second book, and thanked her for convincing me to watch "Last of the Mohicans" (which I'd recently seen). In addition to be extremely gracious, Carrie is one of those people that always seems to find something to talk about, which I really love. She also has me very curious about the Mad Hatter party she'll be hosting at RT. I won't be attending, but I do hope to see pics ;)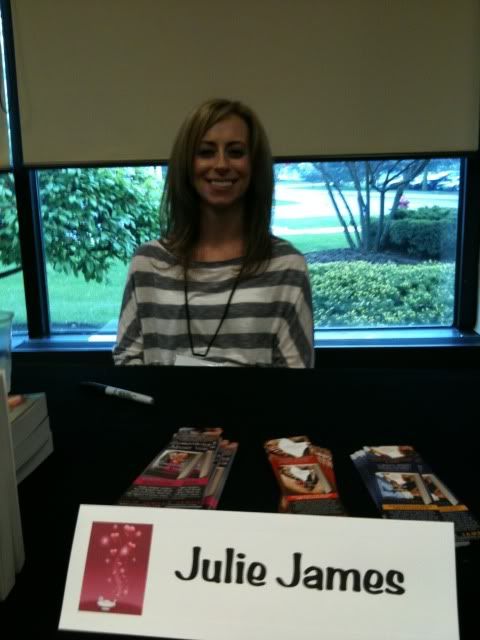 Here's one
of my favorites, and a local talent. Julie recommended a cool place to try wine tasting called Wine Styles, so since there's one in the area, I am going to check them out to see if they offer a wine appreciation class. I have to thank her and Beth, as well as Shannon, for really getting me interested in wine :) I never thought I'd want to truly understand that scene in "French Kiss" with Kevin Kline & Meg Ryan when they are discussing a wine box he made years ago, but now I'm incredibly curious about it.
And speaking of Beth, another of my favorites, here she is in disguise. I'm bummed I've already read all these books already, because I was really looking forward to one of her steamy books. Luckily she's got something coming out later this year :) I didn't get to talk to her for too long, but it's always a pleasure seeing her.
And here's Courtney, author of one of my "intellectual romance" reads. She's just delightful, and very easy to talk to, and not in any way a dork, no matter what she says LOL. I'm really looking forward to her next story, and she was giving away free excerpts in a booklet along with Tessa Dare.

I'm sad to know that Jenna won't be writing as Jess Michaels anymore. She wrote some of my favorite erotic historical romance, but Jenna is moving on, and she has a fun, campy story coming out about zombies later this year under the name Jesse Petersen.

Simone Elkeles. One of the most popular and in-demand authors at the signing. I was lucky enough to have seen her last weekend, but I didn't have her "How To" books, so I did get two of the three signed. (I still need book #2). It was also Simone's birthday on Saturday - what a way to celebrate!


And one of the STARS of the show,the lovely and vivacious Julia Quinn (and proof that I was there!) I adore her. Even though I already had the book, I had to buy a second edition of "The Viscount Who Loved Me", the 1st book of hers I'd ever read and absolutely loved. One of the cool things about Julia is you just don't feel nervous around her. She's so down to earth and likeable that it's hard to be nervous. The lady rocks.
Then Lindsey, Kim & I stayed in their room for awhile after the signing and talked, then around 8pm we headed out to dinner at a nearby restaurant called Stir Crazy. Had never been there, and it was just okay. The appetizers were better than the actual meal, imo. But at that point, we just needed food.
So there you have it, my fun weekend :) I didn't get a chance to see everyone - I missed out on meeting SmartBitch Sarah and Kay Stockham was nowhere to be seen when I swung by her area. There were also a few bloggers and up & coming authors I missed out on meeting as well. Better luck next year......
So, anyone going to RT?
Labels: 2010, Chicago Spring Fling