Wednesday, March 03, 2010: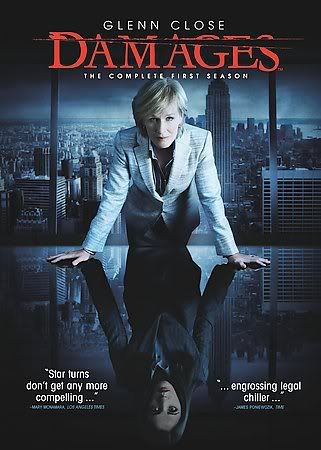 From
BooksaMillion.com
:
Glenn Close stars in this original FX series. Set in the high-stakes legal world, DAMAGES explores the relationship between high-powered litigator Patty Hewes (Close) and her naïve young underling Ellen Parsons (Rose Byrne). Swept up by Patty's camp, Ellen barely has time to catch her breath before being faced with a lawsuit that will challenge her preconceived notions of justice, fairness, and morality.
Ellen will have to start learning fast if she wants to keep up with her fierce mentor, whose no-mercy approach to the law makes her one of the most feared and admired figures in the city. Loyalties will be tested and true colors revealed as a class-action lawsuit involving one of American's richest CEOs (Ted Danson) forces everyone involved to stand up for what they believe in. The show's breakout first season is presented here in full.
I think it was
Kati
who had mentioned this show on her blog some time ago, so right then and there, I'd added it to my Netflix queue. This past weekend I got the DVD's and settled in to watch. And, wow, it was some intense show!
At first when you start watching, you just think this is a show about a new associate hired by a law firm that is trying a high profile case and all the drama of preparing. And it is. But it's also so much more. We already know that one of the characters dies. We see that in the first episode. What happens the rest of the reason are all the events that lead up to that death. And let me tell ya, it's a doozy of a trip to get there. Corruption, murder, bribery, violence. And amidst all that are these two women living their lives, dealing with their own struggles, and trying to try a major case before it all falls apart.
I like that this is a series with two strong women as the main characters of the show. I also like that just because Ellen is young and a bit naive, she's not stupid, and has her own scruples. I won't give anything away, but I will say that this is definitely one of those shows that draws you in and you have to keep watching til the end, but it's not complicated your eyes glaze over (i.e. Lost, from what I understand).
Have you seen Damages?
Love it or hate it?
What show is just blowing you away right now?
Labels: television