Thursday, February 18, 2010: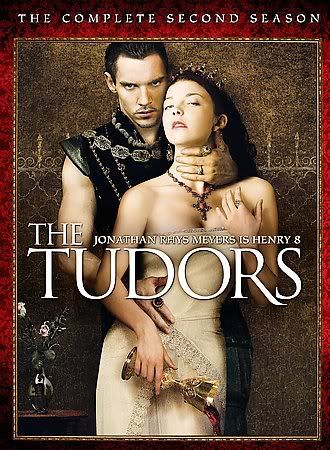 Mining one of history's most infamous figures to create a rich episodic drama, Showtime's THE TUDORS takes on the early life of King Henry VIII, played by Jonathan Rhys Meyers (MATCH POINT). With enough rivalries, scandals, and debauchery to make MELROSE PLACE blush, the engrossing series follows the 16th-century monarch's ascent to power, political battles, and personal ruthlessness. In this second season, Henry creates the Church of England in order to speed his annulment with Katherine of Aragon (Maria Doyle Kennedy). But what will happen when his new wife, Anne Boleyn (Natalie Dormer), can't produce a male heir? No stuffy costume drama, THE TUDORS boasts a talented acting ensemble that includes Peter O'Toole (LAWRENCE OF ARABIA) as Pope Paul III and Jeremy Northam (GOSFORD PARK) as Sir Thomas More. This collection presents all 10 episodes of the second season.
Oh don't you just love a rousing, sexy, frothy drama? I sure the heck do, and this series fits that description to a "t".
In the first season, King Henry wants an heir, but his wife Catherine cannot give him a much desired son. By the end of season 1, he's become quite enamored (read: lusts after) Anne Boleyn. In season 2, his greatest wish is to make Anne his queen. After manipulating his way so that now he is over the church, he puts in place several figureheads to accomplish his goal: to declare his marriage to Katherine of Aragon null and void and marry the devious and nubile Anne. Mission accomplished (hey, no spoilers here, this is all history). But alas, young Anne cannot give him a son either. King Henry, who tends to see what he wants to see and interpret laws differently depending upon his mood, is then convinced that Anne is his downfall and believes the rumors that she's entertained several men in her bedchamber, including her own brother. Then it's off with her head!
You gotta love Showtime, and the melodramatics that are brought to this series. It's full of pretty people, my favorite being Charles Brandon (played by the yummilicious Henry Cavill) who was severely under-utilized this year. Though usually his function is to get nekkid and have all kinds of raunchy sex, and since he appeared to be in love with his wife this season, perhaps it's for the best. However it still would have been nice to see more of him.
Johnathan Rhys Meyers is better-looking this season as well with that goatee he's got going on. Makes him look positively wicked. His portrayal of King Henry amuses me greatly, as he tends to act like a child throwing a tantrum. Natalie Dormer as the scheming Anne is both evil and brilliant. I couldn't hate her completely, though she definitely has her moments. The last few episodes when she's found guilty of treason are grim and a bit terrifying. I almost felt sorry for her, despite all the damage she caused on her way to being Queen. It was a violent, bloody period in time.
I really enjoyed this season and am looking forward to season 3. I tend to get a little obsessive about things that fascinate me and in fact I rented the 2003 BBC version of "The Other Boleyn Girl", starting Jodhi May and Natashca McElhone. It wasn't quite as fun as the over-the-top 2009 (2008?) version with Natalie Portman and Eric Bana, but I liked it well enough. This version is also not quite as glamorous, and King Henry not quite as attractive. And no bloody ending. Bummer.
Do you watch The Tudors?
Do you like historic dramas based on actual events?
Any recommendations for similar dramas?
Labels: television