Monday, February 22, 2010: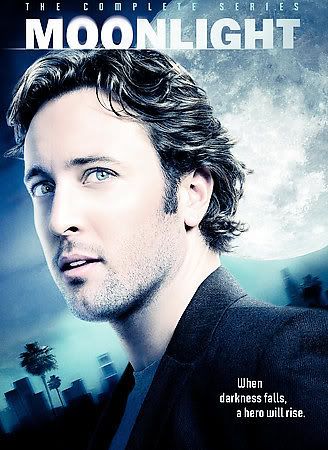 From Booksamillion.com
L.A. gumshoe Mick St. John (Alex O'Loughlin) prowls the darkened streets of L.A. trying to crack his cases. But his predilection for the nightlife doesn't have solely a professional basis--Mick's a vampire. First bitten 60 years ago, Mick now he uses his paranormal powers to help humans rather than drain their blood. But his double life leads to complications caused by his lingering affiliations with the undead--among them his bloodsucking stockbroker friend, Josef (Jason Dohring), and vampiric ex-wife, Coraline (Shannyn Sossamon)--as well as his growing affections for a delectable reporter, Beth (Sophia Myles), who he saved years ago. This collection presents all 16 episodes of the show's first season.
I've heard about this show since it was on the air, but wasn't interested at the time. Even after it was cancelled, I couldn't drum up any interest in it. I felt I could go through life without having watched it. But two things changed my mind:
First off, vampires have really, um, risen in popularity the last several years, and now it's impossible to go anywhere without finding something about vamps. Even though our paranormal elements are finding their own way, vampires are still the more seductive, mysterious creatures. While I don't read any and every vampire story that's published, I have discovered several that I am quite taken with. And now movies and television have jumped on the bandwagon and really saturated the market.
Yet even that alone probably wouldn't have convinced me to watch "Moonlight". It wasn't until I saw "August Rush", with Alex O'Loughlin in the role of one of the main character's brothers. His presence onscreen caught my attention. Oooh mama! It wasn't long after that that I ended up adding "Moonlight" to my Netflix queue.
So this weekend I finally got it in the mail, and settled in to watch it. Now I'll admit, I had certain expectations, and the first episode was a little disappointing because it was rather campy and cheesy, but after awhile, that aspect grew on me. I really liked Beth, a gossip reporter who follows all the hot stories, even though she tended to get mixed up in things that put her in danger, but she was smart and persistent, and I enjoyed how she didn't immediately fall for Mick, even though it was obvious he had feelings for her. Feelings that go back longer than she's aware of.
But the main draw of the show of course IS Mick St. John (Alex O'Loughlin). He's got a raspy voice and a little boy charm that is hard to resist. It's very easy to become enamored of him. He doesn't have a sexy Irish accent, but he does have a mean swagger and an irresistible smile. He doesn't take himself too seriously, which is good, because when he turns into a vampire, it's more amusing than scary. I find myself rolling my eyes when the vamps come out to play.
The first, and only, season has 16 episodes, and so far I've watched 12 of them, not quite ready to see it come to an end. Somehow it got under my skin, and there's so much potential for further seasons, but alas, that is not to be. I know Alex O'Loughlin was in another series called Three Rivers and that now will be cast in the new Hawaii-Five-O series, so the actors have obviously moved on.
Did you ever watch Moonlight?
Do you agree that Alex O'Loughlin is pretty damn hot?
Labels: Alex O'Loughlin, television