Monday, March 01, 2010: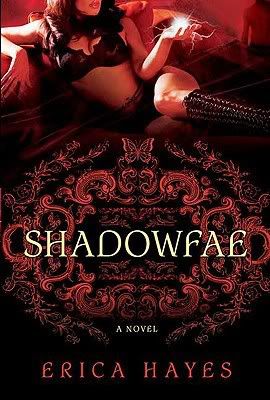 In a city infested with psychotic fairies and run by sadistic vampire mafiosi, life as a soul-sucking succubus rarely involves lacy lingerie, hot guys or great sex.

Enslaved by a demon lord, Jade must spend her nights seducing vampire gangsters and shapeshifting thugs. After two hundred years as a succubus, she burns for freedom and longs to escape her brutal life as a trophy girl for hell's minions.

Then, she meets Rajah, an incubus who touches her heart and intoxicates her senses. Rajah shares the same bleak fate as she, and yearns just as desperately for freedom. But the only way for Jade to break her bonds is to betray Rajah—and doom the only man she's ever loved to a lifetime in hell.

I knew as I as reading this book that this is going to be one of the most difficult reviews I've ever written. So I will preface it right here and now and say - because of my Libra nature and dislike of conflict - that I feel horrible when I say that I did not like this book. But I have to be honest about that. I also feel this overwhelming need to explain myself, so please indulge me.
First off, I have immense respect for the author, Erica Hayes, for writing this book. There are a lot of interesting twists and turns, and never once do I feel that it takes the easy way out. She was extremely ballsy in writing it the way she did, and for not creating a safe, cushy, sweet fairy tale. I'm sure there are many readers out there that loved it for that very reason. Sadly, those are all the reasons I did not enjoy it. However that doesn't mean that it was poorly written. It just means that this story didn't suit my tastes in the least.
Jade is a succubus, forced into slavery for the next 1000 years by a demon lord who forces her to sexually pleasure then take the life of those of his choosing. Jade hates her existence, is humiliated that she feels lust for these unfortunate souls, yet there is nothing she can do. It's who she is now, and there's no way to escape. Or is there?
Rajah finds Jade to be out of his reach, yet he manages to steal a soul she was supposed to take, therefore putting himself into her path. He knows she wants him, but is that just the rapture,or could she actually want him?
Jade wants to believe that someone as beautiful as Rajah could want her, but she's not so sure of herself. And after having a conversation with him about breaking free of Kane's control, she begins to believe he only wants to use her. So when a dangerous vampire starts paying attention to her, she lets herself fall for his seductive words instead of believing that Rajah could possibly care for anyone other than himself. But when Rajah finds her in an unstable, sick state, she begins to doubt everything she let herself believe. Maybe there is a chance for true love for a succubus and an incubus after all....
My thoughts:
Well, here we go. Please take my words with a huge grain of salt, because this story might be to your liking; it just wasn't to mine.
I had first become aware of this book because of a few people on Twitter talking about it. After reading the premise, I was definitely intrigued, and imagined a very sexy, wicked, HOT read, one of glamorous characters and decadent pleasures. That's the story I wanted. The predictable, "safe" story. I would have been totally happy with it, and in fact rather had my heart set on it. Instead what I got was something completely different, and I didn't like it. It was sort of like expecting dark, smooth, luxurious chocolate and getting chicken curry. Nothing bad, just not to my taste.
I mean no insult when I say this, but if I didn't know better, I would have thought a guy wrote this book. It has some stomach-turning elements, concepts that were stark and harsh and very ugly. I picture the book set in a filthy, dim back alley of drug-induced sex and disease, with myriad puddles of vomit and blood staining the concrete. The pain and violence made me queasy, and some of the encounters Jade had made me feel very uncomfortable in a squirmy, I can't watch, kind of way. Yes, she was a succubus, and she felt lust and was compelled to submit to her need, but she was enslaved by a cruel lord (one who thought he was in love with her) who didn't much care how much she hated herself for what she was doing or who she was doing it with. And THAT right there was what made me hate this story the most: Jade's humiliation. And that was another reason I believed a guy might have written this, as there seemed a lot of hatred aimed at poor Jade. She was cosidered a dirty whore. All the men who she dealt with, other than Rajah, treated her like she was nothing more than someone to be used, abused, and disgarded in an unconscious stupor. My stomach roiled with outrage on her behalf.
Now there was an element of hope in this story. A tiny spark. I won't ruin it for you, other than Jade and Rajah do find some kind of a HEA but nothing even close to what I would consider an acceptable one. However it was fitting for the story. We don't all of a sudden see Jade living in a pure world of love and rainbows. We do see her survive, and become brave. She's no longer a gullible doormat at the mercy of her existence. With some help from Rajah, she does become empowered. That is perhaps the little sliver of sunlight in a bleak, ugly world.
So you can see what I mean by the author not taking the easy way out. She tells a compelling story, well-written and rather original. It was just not a story that I would have chosen to read. I forced myself to finish it because that's just how I am, but I felt depressed and sickened and sad throughout most of it. That's my issue. Some other readers out there enjoyed it very much, and I do "get" that. It's not a predictable story, it doesn't have a safety net to make it all nice and pretty. It's risky and raw and very grim. Too realistic for someone who reads romance for the love story, and the wonderful escape from the harshness of the real world.
So while it wasn't a DNF book, and because I understand the appeal this story holds for other readers, I cannot grade it too poorly. I just don't think I can stomach to read the next one :(
Kudos to the author for taking such a risk and telling a gritty, bold, and uncompromising story. I can definitely see her going places.
Rating: *** out of *****


Labels: Erica Hayes