Wednesday, October 28, 2009:
Atlanta would be a nice place to live, if it weren't for magic....
One moment magic dominates, and cars stall and guns fail. The next, technology takes over and the defensive spells no longer protect your house from monsters. Here skyscrapers topple under onslaught of magic; werebears and werehyenas prowl through the ruined streets; and the Masters of the Dead, necromancers driven by their thirst of knowledge and wealth, pilot blood-crazed vampires with their minds.
In this world lives Kate Daniels. Kate likes her sword a little too much and has a hard time controlling her mouth. The magic in her blood makes her a target, and she spent most of her life hiding in plain sight. But when Kate's guardian is murdered, she must choose to do nothing and remain safe or to pursue his preternatural killer. Hiding is easy, but the right choice is rarely easy...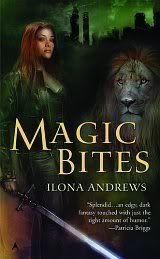 Down in Atlanta, tempers - and temperatures - are about to flare...
As a mercenary who cleans up after magic gone wrong, Kate Daniels has seen her share of occupational hazards. Normally, waves of paranormal energy ebb and flow across Atlanta like a tide. But once every seven years, a flare comes, a time when magic runs rampant. Now Kate's going to have to deal with problems on a much bigger scale: a divine one.
When Kate sets out to retrieve a set of stolen maps for the Pack, Atlanta's paramilitary clan of shapeshifters, she quickly realizes much more at stake. During a flare, gods and goddesses can manifest - and battle for power. The stolen maps are only the opening gambit in an epic tug-of-war between two gods hoping for rebirth. And if Kate can't stop the cataclysmic showdown, the city may not survive...

Drafted into working for the Order of Merciful Aid, mercenary Kate Daniels has more paranormal problems than she knows what to do with these days. And in Atlanta, where magic comes and goes like the tide, that's saying a lot.
But when Kate's werewolf friend Derek is discovered nearly dead, she must confront her greatest challenge yet. As her investigation leads her to the Midnight Games - an invitation only, no holds barred, ultimate preternatural fighting tournament - she and Curran, the Lord of the Beasts, uncover a dark plot that may forever alter the face of Atlanta's shapeshifting community...
Because I officially suck at reviews these days, I'm going to give my thoughts on the first 3 books in this series and hopefully convey my strong opinion that these books are definitely worth checking out.
Once again I have to give a shout-out to Smexy (Mandi) and a few other fabulous bloggers who convinced me that the Magic series was the way to go. I definitely had my reservations, and though others raved about the books, when I first saw the bookcovers I was not impressed. But I was in Barnes & Noble last Friday night and perusing the rows of books when I came across all 3 of the Magic books sitting there, just waiting for someone with a giftcard to snatch them off the shelves and rush them to the checkout line before they changed their mind (yes, that would be me).
I started the first book immediately when I got home, and was feeling rather disappointed. It was rather a slow start, and the descriptions of the resident vampires alone made me almost queasy. These were not sexy, muscular hotties who seduced. No, these were mindless creatures one millimeter away from total bloodlust. But I kept at it, turning page after page, squinting my eyes at passages filled with nasty, dripping gore and blood and pain. These stories were not light-hearted fantasy escapes, they were fairly violent and explicitly messy (word to the wise: I would not recommend eating while reading these books).
But then somewhere along the line, probably halfway through "Magic Bites", I began to lose myself in the story, and started rooting for Kate. She was not only strong and able to take care of herself, she was able to withstand pain, and lots of it. Kate was not spared injury here. She was slapped, punched, kicked, stabbed, and pretty much bloodied during many scenes in the book. She wasn't always the strongest, but she fought with all her might. She fought because she cared, even when she knew it was dangerous to do so. Kate had her own code, such as it was, but she lived by it and had a clearer conscience for it.
"Magic Burns" was even better, and we do see a softer side of many of the characters in this story, especially Kate, who fights to protect a young girl. This situation brings out her maternal instincts. We see the attraction between her and Curran, the Beast Lord, grow, much to Kate's chagrin. Kate realizes that despite her best efforts, she has a best friend in Andrea. The Pack, for the most part, respects her and treats her as a friend. And I love Kate's relationship with her dagger, Slayer. Cracks me up that she's so attached to it. It's like a living, breathing object of death that she can't sleep without.
Now "Magic Strikes" is really where it's at though. A lot of stuff happens here, most notably that she and the Pack almost lose Derek. This story really tugged at the heartstrings, for many reasons. When Derek is beaten so brutally yet is unable to heal, it's devastating to everyone. Curran is put in the difficult position of being lied to by someone he trusts, and as the Beast Lord, the consequences must be severe, as he cannot allow anyone to question his strength, his authority. Kate's feelings towards Curran are inevitably stronger here, as witnessed time and time again. Without giving anything away, I think the series really came together very strongly in this book. It's by far my favorite of the three; the most intense, edgy story to date, and secrets about Kate are finally confirmed here, though heavy hints have been sprinkled throughout the first 2 books.
It's a fascinating series, and I'm so glad I stuck with it and didn't let my initial reaction turn me off the stories. They're still a bit over the top with all the fluids and ickiness - and guess what? Curran don't look all that pretty in his warrior form - but once you get back that, you can really enjoy some good drama.
Rating: 4, 4, 4/12 stars - highly recommended
Would you read these books?
Why or why not?
Labels: Ilona Andrews