Tuesday, June 03, 2008: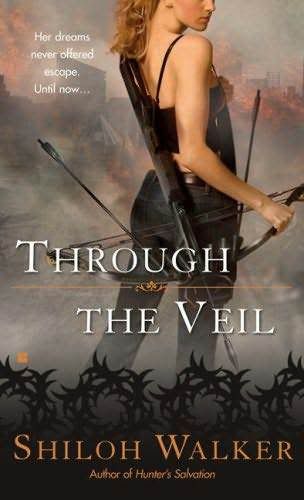 Found wandering in a field as a child, Lee Ross was given a name by the state and placed in a foster home–without anyone realizing she wasn't entirely human. All her life, she's tried to dismiss the odd dreams that have plagued her, dreams of monsters creeping through the night and a man, fighting demons by her side. But the bruises she wakes up with are all too real to ignore.

Then the man from dreams appears in the flesh. His name is Kalen and he insists that her destiny lies in his world, the world of her dreams. To save their people, he must convince Lee to give everything she knows, follow her heart and cross into the Under Realm, even though once she does, she'll never be able to return.
Today, June 3rd, is release day for
Shiloh Walker
's latest release, "Through the Veil", which I reviewed
here
. In honor of this occasion, here's an excerpt:
Terror bubbled inside of her mind as she stared at the cut and wondered where that thought had come from.
Explain that.
An angry voice flooded her ears, and eyes loomed large in her vision, flooding out everything but those molten silver eyes.
We'll fight this war without you…
Swallowing, she rubbed her chest. The ache there expanded as his words echoed in her mind over and over. Explain that.
Explain it—there was no earthly way to explain it. Well, there was one. She was going crazy. She was going crazy—having bizarre, insane dreams and she had cut herself. But even as she thought that through, she knew it was wrong. This felt like no dream.
It felt like a memory.
A man's face shimmered into her mind's eye.
The man from that piece she had been working on the other day.
Kalen. His name was Kalen. His face had haunted her dreams for so long.
Kalen, standing over a bloody mess of chaos and destruction, turning to look at her with pain and disappointment in those amazing silver eyes. His hair was a silken black cloak that hung around his shoulders, half way down his back…and he was angry, so angry, the air around him all but vibrated with his rage.
You belong in our world…
Stay tuned for a contest to win a signed copy!
Labels: Shiloh Walker