Wednesday, June 25, 2008:
Last week I saw an article about the 25 best heavy metal bands, which listed ones like Pantera and Judas Priest and even Jimi Hendrix, and it reminded me of my great teenage love for the
hair bands
of the 80's, many of whom I remember quite fondly. (I myself was a bit of an AquaNet girl, though my bangs never reached such staggering proportions of many of my high school classmates, and in hindsight I am extremely grateful for that).
I was glued to MTV back in the day, watching the most requested videos of the day for a glimpse of my favorite bands, which, I grant you, were probably not the most talented but certainly the most colorful. Who knew that men with long hair and wearing eyeliner could be so sexy?
Here are just a few of my favorites from that era of glitter, spandex, and ratted hair: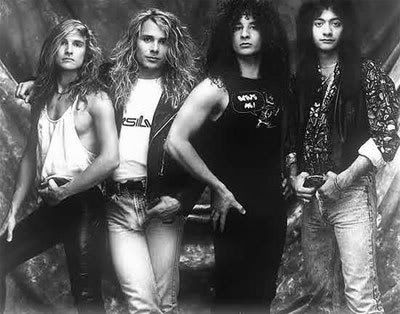 White Lion
Okay, I was more a fan of the lead singer, Mike Tramp (second from the left), than the rest of the band. I still love listening to "
Wait
" and "
Tell Me
". Catchy little ditties those were, and Mike sure was sweet eye candy. I always wondered how he turned out...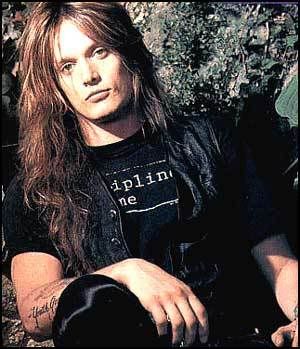 Sebastian Bach from Skidrow
Skinny, twisted, loud, Sebastian nevertheless had those lips that just drove me crazy whenever I watched him sing "
I Remember You
" or "
18 and Life
". Of course he always seemed a bit crazy, so that might have been part of the appeal. Anyway, after 2 decades, I don't think he aged quite so well. But that's okay, cuz the infatuation is way over.
Kip Winger from Winger
Yum. Kip Winger was more masculine than most of the guys from these bands, and sure, he wasn't singing classic rock, but I didn't care; I liked their music back then, especially "
Hungry
" and "
Headed For a Heartbreak
", and I liked how Kip looked while he sang it.
Nikki Sixx from Motley Crue
I know, I know, but I had to include one pyscho moment, didn't I? There's just something about Nikki Sixx - messed up as he is/was(?) - that totally appealed to my inner rock vixen. Sometimes (or a lot of the time), infatuation rarely makes sense, and I just find him hot. Not all the time, mind you, but the smudge eyeliner, permanent bed-head and multiple tattoos totally worked for me, even to this day. Hey, it's not like I want to marry the guy, and I probably wouldn't want to shag him either. Aging, drug-addicted rock star = who knows where he's been. But he's rather pretty, in a used-up, hard living kinda way.
Jon Bon Jovi (like he needs an intro)
But the reigning rock hottie of my formative years was none other than this man, JBJ. From seeing the band on "American Bandstand" in the beginning of their career to watching "You Give Love a Bad Name" (and countless other videos) endless times, Jon stood out big time. Gorgeous, charismatic, talented, he was an immense pleasure to watch, and dream about. More than my teenage heart broke when he married his high school sweetheart, but now that I'm older, I can appreciate the fact he's still with her after all these years.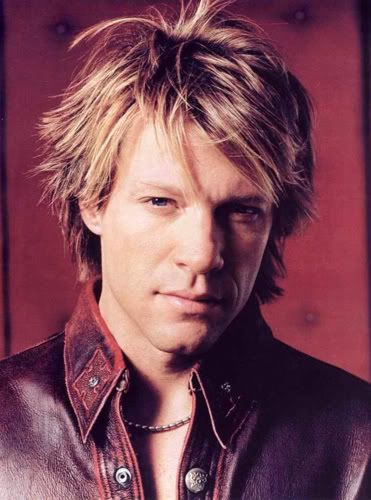 Even now, more than 25 years later, he's still got that hot quality that makes him so damn appealing. It's cool at the same time as it is really annoying that men can age so well. But I'm not complaining too much as I still like to look.
What rock star(s) of your teenage years got your hormones raging?
Do they still have that effect on you today?