Saturday, January 19, 2008: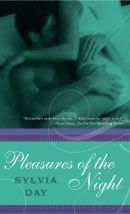 Paperback: 304 pages
Publisher: Avon Red (April 24, 2007)
ISBN-10: 0061230987
ISBN-13: 978-0061230981
In the Twilight between sleep and consciousness, a battle rages between Dream Guardians and Nightmares. Captain Aidan Cross is a legend, as skilled in fulfilling erotic dreams as he is with the glaive that kills his enemies. Women see Aidan as part of their fantasies...except Lyssa Bates. Exquisite, desirable, enigmatic Lyssa perplexes this immortal seducer because she sees him as he really is. And as he attempts to unravel her secrets the unthinkable occurs: Aidan Cross falls in love.
Lyssa has been having the most incredible dreams about a man whose blue eyes hold the promise of decadent pleasures and tempting intimacies. And then he appears on her doorstep! This intoxicating stranger is just as irresistible as the man of her dreams...but with her surrender there is also grave danger...
Because Aidan is on a mission, and the passion that consumes them body and soul could have dire consequences. Loving the mortal woman prophesied to destroy Aidan's world is not only impossible...it is forbidden.
This is book #1 in the Guardian series by Sylvia Day, released almost a year ago, but I am just reading it now. The premise was intriguing to me, and as I'm a fan of Sylvia's already, a no-brainer. It just took me awhile to finally get around to pulling it off one of my neglected piles.
It started out a little slow, building up what it exactly is Aidan does as a Dream Guardian. Basically he fulfills the erotic fantasies of countless women, literally becoming the man of their dreams. He also battles the nightmares that feed on people's fears and anxieties that leave them feeling exhausted and weary after a restless night. The Guardians are waging a war against those endless Nightmares, the soulless entities that weaken Dreamers and would destroy the human race if not contained and destroyed by the Elite Warriers.
After centuries of fighting, Aidan is disillusioned. What exactly is it they are fighting for? The Elders keep much to themselves, only warning them that there is a Key out there, a Key that must be found and destroyed, but after so long, and no leads, Aidan begins to wonder if there really is a Key. Yet recent claims to have found the Key re-new the Elders' determination to see it destroyed, and they have changed their strategy. Now, Elite Warriors such as Aidan will be trying to infiltrate the subconscious of resistant Dreamers - those who may have suffered abuse or guilt and refuse to let anyone past their protective shields - in an effort to locate the Key.
Lyssa Bates is such a Dreamer. Exhausted beyond belief and only wanting a good night's sleep, Lyssa has been plagued by sleep problems for years. One night as she tries to claim the relief that has evaded her for years, the pounding that has kept her from getting any rest has reached a breaking point, and she calls out. Aidan, expecting a long night of trying to break down her barriers, finds himself intrigued by the Dreamer who has let him through the door, and rather than calling in a Nurturer to take over, he decides to stay. Lyssa has her first complete night of rest in ages.
Aidan is not supposed to become so infatuated with a Dreamer. He is supposed to spend one erotic night with Lyssa and never come back, as he has fulfilled his duty. But he can't manage to keep himself away, not when she's the only woman who truly "sees" him for himself. Becoming attached to Lyssa is forbidden, but nothing makes him feel alive like being with her. Determined to be more to her than a dream, Aidan finds a way to Lyssa's doorstep, and discovers the woman is more incredible in person, and before long, he has fallen in love with her. Only to discover that there is no way for them to be together. He must leave her forever....
It took me awhile to get drawn into the story, but Aidan drew me in quite completely. What I loved about him is though he is a strong alpha male, he is also tender and compassionate, and so sweet with Lyssa that it breaks your heart. And it's not in a pansy, wringing-his-hands kind of way, but in a protective, loving way. Aidan is beyond lonely, feeling he has nothing left to give as a Warrior, but Lyssa becomes his purpose, and she cares for him just as much and wants to protect him. I felt that they were well-matched, and very sexy together.
One thing that was a little jarring, though not in a bad way, was Aidan's physical appearance in Lyssa's life. As a Warrior in his world, it seems a simpler place, one without modern conveniences, yet he easily adapts to life in the 21st century as if he had been living it all his life. I was a little distracted by that. But overall, I enjoyed the book very much, and I adored Aidan. Lyssa was also very likeable, and strong, and I very much wanted them to be together.
The Key angle was also quite interesting, probably because I am a huge "Buffy the Vampire Slayer" fan and it reminded me a bit of that storyline. As part of a series, there were many unaswered questions that I assume will be addressed in future books. The 2nd book, "Heat of the Night", is already in stores, and I cannot wait to get my hands on a copy. In the meantime, I would recommend this book for something really sexy, kinda different, and an irresistible hero who is to die for.
Rating: ****1/2 out of *****
Labels: reviews, Sylvia Day