Monday, February 19, 2007:
I'm sure I've mentioned before that I am a huge re-reader. I love delving into a book that I know I love and getting caught up in that world again and again. It doesn't matter that I already know what happens because if I loved the book, I can get caught up in it just as easily as I did the first time. There is a magic to some books that allows the reader to enjoy them over and over again.
I know some people don't get this, even some authors, yet I would think that would be what every author strives for: a book that readers want to go back to and experience more than once. It's not an easy thing to accomplish, and finding books I want to re-read is getting harder and harder. So far I stick with some all-time favorites, like Judith McNaught and Suzanne Brockmann. I've added Julia Quinn and Linda Howard, Lori Foster's Bad Boys, some of the really hot and sexy Ellora's Cave books, and there's a smattering of random books thrown in as well.
Right now I'm on a Lisa Kleypas marathon. I've decided to re-read the Wallflower series (except for book 2). I just finished "Scandal In Spring" and loved it all over again.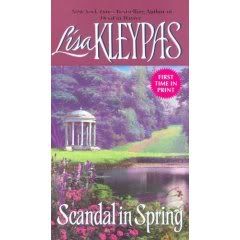 Now I know many readers didn't care for this one, but I am a sucker for the whole "still waters that run deep" hero. Strictly speaking of my books, I melt at the idea of a hero pining for the heroine, believing, with very good reason, that he is not good enough for her or that they can never be together. Why I like this is because it gives the heroine a chance to change his mind, and I like the idea of the heroine being proactive enough, and confident enough, to go after what she wants. Daisy Bowman is just such a heroine, and Matthew Swift certainly deserved her. He may have appeared practical and reserved, but with Daisy, he had no control over his feelings. She made him long for happiness, and he adored her just as she was. I also liked the fact that although Matthew believed they couldn't be together, he wasn't a martyr about it, but rather just trying to be practical about the whole situation. That was, until jealousy took over. Then Matthew couldn't help but follow his heart...and his hormones. Atta boy.
I think I am too much of an old-fashioned reader sometimes, and I'm bothered by some of the inevitable changes that have occurred in most of today's romances, whether they are contemps or historicals. Nowadays it seems that everything is laid out on the table: misunderstandings are easily solved, sex is immediate, and a declaration of love may or may not happen, but damn, let's have sex for the 452nd time. Sexual tension and emotional intensity seem to be a thing of the past. This is one reader who is a bit nostalgic for the good old days. It almost makes me miss the secret baby plots. Almost.
Now don't misunderstand: I love the hot stuff. A LOT. I don't have a problem admitting that I am all for the down and dirty sex scenes, as long as they are attached to a romance. In fact, I've discovered that there are certain books that I am hooked on that I never thought I'd go for. But a constant diet of non-stop sex in every chapter bores me to tears. Hence, I am happy enscounced in re-reader heaven with some books I know will pull me out of the de-sensitized rut I've been trapped in. Long live Lisa Kleypas!
Who's your favorite author(s) to re-read?
Do you think there's too much sex and not enough plot or not?
Next up....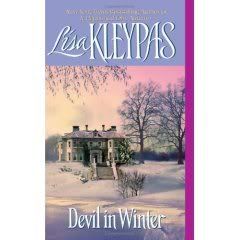 Isn't Sebastian just yummy?
Labels: historicals, Lisa Kleypas, re-reads