Wednesday, November 22, 2006:
I know it's kinda early, but I felt in the holiday mood :)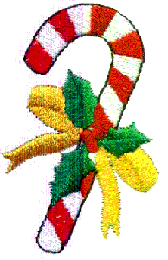 1.
Egg Nog or Hot Chocolate?

Hot chocolate. I can only handle egg nog in small quantities.
2.
Does Santa wrap presents or just sit them under the tree?
A little of both actually
3.
Colored lights on tree/house or white?

Depends on my mood. Some years I like lots of color, other times I like a simple look with just one or two colors.
4.
Do you hang mistletoe?

No, but maybe I should LOL
5.
When do you put your decorations up?
In December….I'm not organized enough to do it the day after Thanksgiving like some I know.
6.
What is your favorite holiday dish (excluding dessert)?

That's a tough one. I've been to many different places for the holidays, so I like different ethnic dishes. Tamales are usually popular at some of the homes I've been to, and I love them. Also empanadas, turkey and homemade stuffing.
7.
Favorite Holiday memory as a child:

Watching the Christmas specials on t.v., like "Rudolph the Red-Nosed Reindeer" and "Norris the Long-Earred Donkey" (I think that's his name) and thinking about the star of Bethlehem before going to bed and dreaming about Santa and all the gifts he'd bring. I wanted to fly on the sleigh, too.
8.
When and how did you learn the truth about Santa?

I have no idea what you could be asking....
9.
Do you open a gift on Christmas Eve?

Almost always
10.
How do you decorate your Christmas Tree?
I believe it should be more fun than work. I kinda throw everything together, especial the tinsel, and admire my handiwork.
11.
Snow! Love it or Dread it?

Love it for Christmas, hate it the rest of the year. And it has to be the fluffy stuff.
12.
Can you ice skate?
Ha! Being born in northern MN, you would think so, wouldn't you???? But I'm the biggest klutz
13.
Do you remember your favorite gift?

I don't know why, but it was a Snoopy doll dressed in a cap and nightgown. Dragged that thing around with me for years LOL.
14.
What's the most important thing about the Holidays for you?

Spending time with family & friends, and volunteering to help with any kind of program to help the kids. This year I'm helping decorate for the Fantasy flight, where terminally ill children will be flown from Chicago to Wisconsin than back again, where a gate at O'Hare will be transformed into the North Pole. It's a very beautiful yet poignant experience.
15.
What is your favorite Holiday Dessert?

Rum balls! My friend Diana always puts extra rum, so seriously, there's no driving!
16.
What is your favorite holiday tradition?

Sleeping in *g*
17.
What tops your tree?

Varies, sometimes it's a star, sometimes it's an angel, sometimes it's a bow.
18.
Which do you prefer giving or Receiving?

I'll be honest - a little of both
19.
What is your favorite Christmas Song?

"What Child Is This?" Reminds me of "Greensleeves", which I love.
20.
Candy Canes! Yuck or Yum?

I like Candy Canes, especially the spearmint ones.