Monday, May 29, 2006:
***Don't forget, my contest for Erin McCarthy's book ends tomorrow, and I will draw a winner tomorrow, probably late afternoon/evening, when I get home from work. Good luck!***
It's finally summer, and the temps are hitting the 90+ degree mark. It's also when I turn into a girly-girl, which is all relative because I'm still a tomboy at heart. But this time of year is when more skin is showing, and I enjoy being a female more than I do during the winter months. (Let's just say the winter months are more about loose, comfy clothes and less maintenance LOL)
So...what do I do to prepare for the long-anticipated shorts and sandals weather? Well, usually in March, I head to the tanning salon and start working on getting some color.
I know, I know - it's bad for me. Don't yell at me because I do realize this, and I choose do go anyway. What can I say, I'm not always good at taking sound advice, and I am a huge fan of instant gratification. One of my many downfalls. As for the process, I'm not exactly pasty, but I do lose a lot of color over the winter months and try to get it back as quickly as I can. Taking only 10 to 30 minutes a visit is a great time saver. I've also heard a lot about this product
from people who've tried it and swear by it. The trick is to be able to actually find any in the stores - it goes fast. In the past I've used sunless tanning lotions with disappointing results. I was a streaky, orange mess, and it was so not my color! But this stuff is great to even out my tan, and it comes in face tanner, which is great because my face does not tan - it burns. Don't ask me why - the rest of me tans - but that is all part of the mystery that is me.
Shaving/waxing is another necessary evil in the summertime, especially if you're wearing less clothing and especially if you are wearing a bathing suit. I won't spend too much time dwelling on this because I hate it, but it feels so good when the hair is gone. My skin feels so smooth and even glows a little with the tan I've acquired. Sometimes you have to do things you don't like to do to achieve the desire results....and this would definitely be one of those things because it requires more regular maintenance in the summer.
I love wearing tank tops in the summer, especially since I'm not extremely well-endowed, and the ones with the built-in shelf bra are so awesome. I swear everytime I go clothes shopping I buy another one.
In no way do I look like this LOL. I love the colors they come in - pinks and reds are my favorite - and they go with everything. In the fall and winter, I will wear one under a blazer and not have to worry about a bra if I don't want to. It's a beautiful thing....
And of course another girly thing is nail polish. I recently let my nails grow out so I could put pretty polish on them. I've never had a manicure - don't ask me why because waiting for the color to dry, even the quick-finish stuff - is a total pain.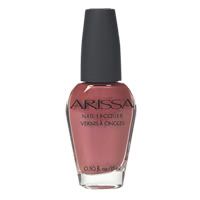 I usually make a mess of it because I can't seem to sit still and not touch anything for more than two minutes, and believe me, I don't care what the bottle tells you, it takes more than 60 seconds for even the express finish color to dry completely.
And it's nice to set this all off with some finishing touches, say, a temporary tattoo or an ankle bracelet (love this flirty skirt)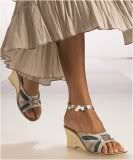 with some cute (and comfortable!)sandals. It's the finishing touches - and the necessary need to go shopping - that pull the look together. Today was one of those days that I spent finding some great buys and even a new look. I'm more about jean shorts than capris, but today I bought 2 pairs of capris, even one in green! They are so cute and comfy, and perfect for those cooler evenings. And they are also very popular these days.
Okay, so that's my summer ritual. Do you have anything to add? Favorite primping techniques? Hairstyles? Indulgences? Please, share with the group. And welcome to summer....