Monday, May 15, 2006:
Okay, it's bad enough I have a tbr mountain that I am in fear of - one day I know it's going to topple over and I will be found dead underneath it - now I have a freakin' tbb pile! A list I've compile of books I want, like, yesterday.
Hardcover: 336 pages
Publisher: Ballantine Books (June 27, 2006)
Language: English
ISBN: 0345486501
In the charming rural town of Trail Stop, Idaho, accessible to the outside world by only a single road, young widow Cate Nightingale lives peacefully with her four-year-old twin boys, running a bed-and-breakfast. Though the overnight guests are few and far between - occasional hunters and lake fishermen - Cate always manages to make ends meet with the help of the local jack-of-all-trades, Calvin Harris, who can handle everything from carpentry to plumbing. But Calvin is not what he seems, and Cate's luck is about to run out.
One morning, the B&B's only guest inexplicably vanishes, leaving behind his personal effects. A few days later Cate is shocked when armed men storm the house, demanding the mystery man's belongings. Fearing for her children's lives, Cate agrees to cooperate - until Calvin saves the day, forcing the intruders to scatter into the surrounding woods.
The nightmare, however, is just beginning. Cate, Calvin, and their entire community find themselves cut off and alone with no means to call for help as the threat gathers intensity and first blood is drawn.
With their fellow residents trapped and the entire town held hostage, Cate and Calvin have no choice but to take the fight to their enemies under the cover of night. While reticent Cal becomes a fearless protector, Cate makes the most daring move of her life…into the very heart of danger.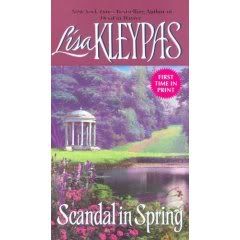 Paperback: 384 pages
Publisher: Avon (August 1, 2006)
Language: English
ISBN: 0060562536
I can't find the book description anywhere. Once I do I will post it...
Hardcover: 352 pages
Publisher: St. Martin's Press (May 30, 2006)
Language: English
ISBN: 0312357435
Susan Michaels was once the hottest reporter on the Beltway Beat until a major scandal ruined her life and left her writing stories about alien babies and Elvis sightings. Life as she once knew it is over, or so she thinks until she gets a lead on the biggest story in town: The Seattle Slayer. She heads to the local animal shelter, expecting a tip on the latest rash of killings. Instead, she gets a story about the mayor feeding citizens to a ring of vampires... yeah. Just another day in her life.
Then she gets talked into adopting a cat she's allergic to. Her first thought is to neuter the cat. But when he turns out to be a gorgeous shapeshifting man who claims to be an immortal vampire slayer she thinks: not so fast. Next thought: seek professional help.
Susan doesn't know what to believe, but as she's drawn into a paranormal world, she comes to realize that the story that could bring her credibility is too unbelievable to expose. Now it's no longer a question of bringing the truth to her readers, it's a matter of saving lives and souls, and her only ally is a man she's allergic to. In the world of the Dark-Hunters, it's always dangerous. But never more so than when one very human woman can shatter their entire world with just one story. The only question is...will she? Dark Side of the Moon is full of Sherrilyn Kenyon's trademark sexy humor and breathtaking imagination.
Paperback: 320 pages
Publisher: Avon Red (May 23, 2006)
Language: English
ISBN: 006088536X
Agent provocateur Liz Maverick
A deadly agent is assigned to prepare an exotic beauty to be the ultimate seductress and perfect spy . . . lessons that will require long hours of personal instruction to perfect her ability to pleasure a man . . . and, ultimately, conquer him.
Unrequited Kimberly Dean
After years of secret longing for his brother's wife, Tyler rejoices when she is set free and ripe for new love -- though it may take a prolonged seduction to convince wary Trista to open herself up to pleasure once more.
Victim of Deception Lynn LaFleur
When a woman moves into an old house, she is suddenly tantalized by erotic dreams that cause her to shed her every inhibition . . . leaving her vulnerable to the very real, very irresistible ministrations of the man who'd once broken her heart.
Paperback: 304 pages
Publisher: Berkley Trade (May 2, 2006)
Language: English
ISBN: 0425209725
Book Description
A delightful new comedy about witches, vampires, and the search for the perfect man.
Recovering witch Garnet Lacey manages Wisconsin's premier occult bookstore. And a fringe benefit of the job is getting customers like Sebastian Von Traum-piercing brown eyes, a sexy accent, and a killer body. The only thing missing is an aura. Which means he's dead. And that means trouble.
So what's a girl to do if she's hot for a dead man walking? Run like hell-and take full advantage of the nights
Paperback: 304 pages
Publisher: Berkley Trade (August 1, 2006)
Language: English
ISBN: 0425210138
Book Description
From the USA Today bestselling author, a vampire-meets-girl story set in the city that never sleeps-except during daylight.
He's a bloodsucking freak of nature. But, unlike other politicians, Ethan Carrick is actually a nice guy. Not to mention a very hot, wealthy, casino-owning vampire. It's an election year for vampires, which means he'll first have to escape his opponent's hit men. Then he'll have to find a suitable First Lady, preferably here in Vegas.
Brittany Baldizzi fits the bill. She's smart, pretty- and sweeter than a glass of diabetic O-Negative. But her protective sister Alexis steps in with a message for Ethan: Bite me. It's then that he realizes it's the sexy, no-nonsense Alexis who raises his stake. And as much as she denies it, Alexis wouldn't mind a romp in the coffin with him. But can a mere mortal, even one who risks her life for him, make a centuries-old, womanizing vampire feel something entirely new?