Friday, April 02, 2010: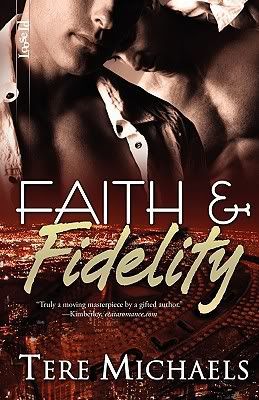 New York City Vice Detective Evan Cerelli has lost his wife, the only person he ever loved and slept with. He's trying to get on with his life, build a life for his children. Former Homicide Detective Matt Haight is a ladies' man, all sex/no commitment. He's depressed, having a midlife crisis, and not sure where his life is headed.

The two find friendship in the bottom of a shared bottle. When the friendship turns to love, it shakes two straight men to the core and flips their lives inside out. Kids, families, careers that are not gay-friendly -- can all the love in the world overcome the obstacles to faith and fidelity?

I've been hearing about this book for awhile, mostly only Twitter, and so the last time I ordered books, I added this one to the list. This is my first book by
Tere Michaels
, but if all her stories are as moving as this one, it certainly won't be the last.
Evan Cerelli was a happily married man with four beautiful children when tragedy struck and took his wife from him. He's trying to hold himself together for the sake of his kids, but some days it just becomes unbearable. Matt Haight is a womanizer who drinks too much and isn't happy with where his career path has taken him. Both meet at a retirement party for a mutual acquaintance, and immediately hit it off as friends. They begin hanging out about once a week at the bar, shooting the shit and just having somewhere to go on those lonely nights.
Soon however, Matt begins to start having erotic dreams about Evan, and it freaks him out. He's always been a masculine, heterosexual man, always loved the ladies, but there's something about Evan that has him feeling something he's never felt before. Something real and beautiful. He fantasizes about touching him, kissing him, and it scares him. He doesn't want to ruin this new, fragile friendship with a really great guy, but he can't stop his growing feelings for Evan. And he's trying to figure out where the hell this is coming from.
One night Matt is at Evan's house for an evening with the family, and he has a great time with the kids and watching Evan actually smile and laugh for a change. It makes him feel good he can be a part of that. When the snowstorm gets really severe, he's stranded there and ends up spending the night. He's awakened when Evan has a bad dream, and Matt allows his touch to linger a little too long. But the two pretend nothing happens. Matt is afraid that he's ruined his friendship with Evan, but it turns out that Evan likes Matt's touch, though he's just as confused as Matt about what's happening between them. It's a whole new experience for both of them, and while they are both terrified about where this is leading, they also want to explore the growing attraction. But how will the people in their lives deal with the possibility of a relationship between these two men?
My thoughts:
Last week I had posted about my dissatisfaction about the lack of romance in my books. Well, let me tell you, I cannot include this book in that category. "Faith & Fidelity" is one of the most beautiful, poignant, lovely romances I've read in a long, LONG time. Watching as both Matt and Evan tentatively reach out to each other and fall in love was such a moving and wonderful experience. They share their fears and confusion with one another, but while they both have reservations about getting involved in a relationship, they also both know that what they have together is special, and very, very real.
One thing I really liked is that these two men are regular guys. They talk like guys, act like guys. Their language and mannerisms fit with how men are, so it's not like a woman's voice spouting out of a man's mouth. They're a bit rough with each other but not in a hurtful way, but because being more aggressive is in their nature. They are good, decent men, flawed and damaged and hurting, and their pain initially drew them together, but ends up leading to something more substantial and lasting.
Not to say that their relationship is smooth & easy. The fear of discovery is always there, and Evan more than Matt has understandable concerns because he has other people to consider: his kids. They have their share of heartbreak dealing with the realities of coming out about their relationship. I couldn't help but hurt for both of them, watching them struggle with falling in love and the fear of being rejected and hated for it. It makes the story that much more emotional, but at the same time, makes me angry because their fears are likely very much warranted. Here you have two wonderful people who've found each other, and want to build a life together, but the stigma attached to their lifestyle prevents them from proudly being together out in the real world. Not to say everyone in their lives is homophobic. Several people, including Evan's boss, are very accepting of the relationship. But it makes me sad to think they have to hide it. [Personally, I believe God is about love, not about hate, and that He would be completely accepting of their relationship].
Another thing I loved is that when it comes down to it, this is basically a story about two people falling in love. Doesn't matter that it's about two men. I think that sometimes in real life, things really do happen like that. You fall in love with the person, not whether they are a man or a woman. It's romantic in how they look at each other, how they touch. Their relationship is very sexual but also very affectionate. Sometimes, in the beginning, it was difficult to imagine these two guys being so sweet and tender with each other, but because of the depth of their feelings, their devotion to one another, it became natural. I felt like I was in the middle of watching something rare and precious unfold and become stronger, more resilient. It was, for the most part, a joyful experience.
I know that I cannot possibly do this story justice in the way it deserves, but I hope that I've encouraged at least one person to read it and if they end up loving it, then I will be satisfied with that. In other very happy news, there is a sequel to this book called "Duty & Devotion". And Tere's second book, about a character who appeared in "Faith & Fidelity", is called "Love & Loyalty". I cannot wait to read both stories!
So if you're a fan of m/m romance, or you want to take a step outside your comfort zone, please do yourself a favor and pick up "Faith & Fidelity". It's an unforgettable, wondrous love story.
Rating: ***** out of *****


Labels: review, Tere Michaels