Monday, March 29, 2010:
Mandi's rockstar "husband" Brandon Flowers

Sometimes you meet people in your life that have a greater impact than others. It could be a life-altering impact, or one of a less serious but no less valid reason. Mandi is one of those people that I've known for several months, and much like Katiebabs, has this way about her that is fun, engaging, and totally infectious (but in a good way *g*).
I'm bad a remembering things, so I can't exactly say how long I've known Mandi, but it's been awhile, gotta be around a year, and mostly through Twitter. She's generous, funny as hell, and adorable in her enthusiasm for all things Bruce Weed, er, Brandon Flowers, red wine, and sexy books. I also think she has an amazing talent for bringing people together. That is really quite fabulous.
For me, Mandi is just someone I warmed up to right away. She's very easy to get along with, doesn't take herself too seriously, but is also incredibly loyal and quick to share a laugh or lend support. She's the type of person who takes people as they are, and I can believe that she's a loving mom who'd do anything for her family and friends.
So today is Smexy Day, the day of Mandi's birth, and we are spreading the love around the blogosphere. Feel free to share why you love Mandi and how much her friendship and humor have meant to you. Hugs to a beautiful, unique, and outrageous person. Mandi, we love you!
Brandon singing to Mandi
HAPPY BIRTHDAY MANDI!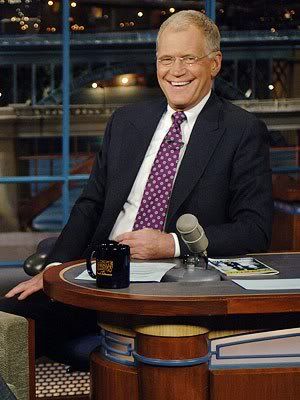 Mandi's "unusual" crush, David Letterman
Dave's TOP 10 REASONS WE LOVE MANDI:
10. She loves wine *g*
9. She thinks hairy men are particularly smexy
8. She reads a ton of books and offers up fabulous recs
7. She's a Killers' freak! (someone has to love their music LOL)
6. She's damn funny!
5. She tweets hilarious revelations when she's had a little too much to drink *g*
4. She's got a fabulous blog: http://www.smexybooks.com/
3. She loves smut!
2. She's married to her middle school sweetheart - awwwww!
...and the number #1 reason we love Mandi....
SHE'S AN AWESOME FRIEND AND LIFE IS MUCH MORE FUN WITH HER AROUND!
Have an AWESOME day!