Monday, March 15, 2010: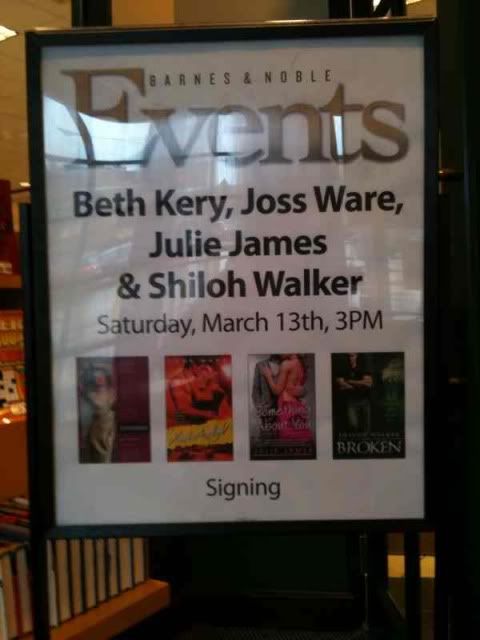 Here's the first thing you see when you walk through the doors of the Barnes & Noble, located in Chicago on Webster. So pretty.....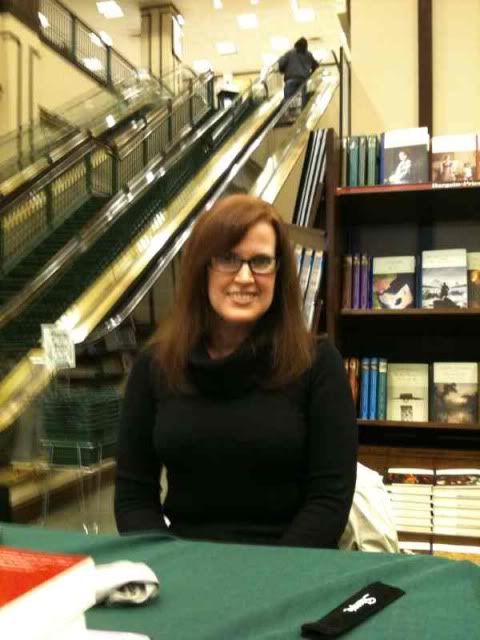 Here's Beth Kery, author of one of my top favorite erotic romances of all time: Wicked Burn. She's so sweet, and much prettier than my blurry photo-taking skills would indicate. In my defense, I was using my phone to take the pictures, and it's not the best quality. But take my word for it, Beth is adorable.
I didn't notice this at the time I took the picture, but have to laugh at the sign above Julie James and Joss Ware: Bargain-priced top selections. Yeah, I'd have to agree - they are a bargain *g*

And here she is, the object of my "obsessive" stalking: Shiloh Walker! Ain't she just the cutest thing ever???? And she left me the sweetest message in my copy of Broken, which I would have taken a picture of to show you, but I ended up leaving my books in someone else's car and don't have them back yet, but they are not far from me, so if I get them back soon, I'll be sure to take a picture and show you all. She says the nicest things LOL.
It was a most fun Saturday, and I also got to meet some Twitter friends, like Colleen. Julie's adorable son Jackson was there, but I missed the opportunity to meet the brilliant Mr. James. Perhaps another time. I also missed seeing my pal Dani again. I got there around 3:30 and stayed the whole time. I figured if I'm going to drive into the city I'm going to make the most of it.
After the signing, we headed across the street to the Webster Wine Bar. (I did take a picture, but it was so dark in there it's hard to see after I downloaded it). I talked to Julie a little bit about her next book - her heroine owns a wine store and Julie did extensive, um, research for the book, which has now prompted me to find out more about wine. I never really cared all that much before, but it turns out Illinois has some decent wineries, plus I checked online and there are a gazillion wine-tasting events around the city and suburbs, some of them even free. So I think I'll be brushing up on my wine knowledge.
Shiloh's hubby was also in attendance. Gotta give the guy credit for listening to our chatter. He didn't talk much but you can just tell he's got some interesting thoughts and opinions, judging but the look on his face LOL. I'm sure being married to an author, he's heard it all.
Got exciting news from Joss: she's working on book #4! I won't give anything away, but I'm thrilled to pieces. It's going to also reveal a lot about another character who will be getting a story later on, and I can't wait for his story. It's going to be a doozy, I'm sure. And in Colleen Gleason news, she's got a new vampire series she's working on, so I'm tres excited about that. Keep those books coming, Joss/Colleen!
In other news, I have a interview with Beth to post, which will probably go up sometime this week. I'm looking forward to that. She was very patient with me, as I tend to ask really confusing questions, but I think we worked it all out.
So as you can see, I had a GREAT time. These ladies are 4 of my favorite authors, all auto-buys for me. And I'm looking forward to seeing them again later in the year for other signings. There's the Chicago Spring Fling, which I'll be attending, as well as the Lori Foster get-together, and RWA. It's going to be a fabulous year :)
Labels: Beth Kery, booksignings, Joss Ware, Julie James, Shiloh Walker