Wednesday, March 10, 2010: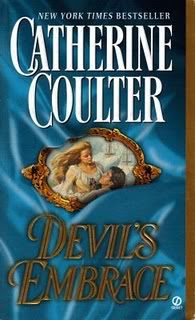 After I read Shadowfae last week and decided that though it was well-written and unique, it just wasn't for me. I found the story too disturbing and unsettling for me to really enjoy it. Then I began thinking back on the hundreds of thousands of romances I've read over the last 25 years and remembered some of the other romances I've read that bothered me...or perhaps should have bothered me.
One book in particular stands out as a story that should have bothered me, though for the life of me I cannot recall the name of it. Three things are especially memorable to me: one is the fact that I remember getting the book at the book mobile, so I had have been around 12. Another is a very specific scene in the story where one of the female characters is rather horny and decides to satisfy her lust with a cucumber. Took me a long time to not thing of that scene when I'd eat even the smallest piece of a cucumber. And the third scene involves a man trying up a woman to the bed and pleasuring her. None of these things is really all that disturbing until you take into consideration my age and understanding of such matters at the time. I probably wasn't really ready to read such mature subject matter, but at the time, I had no clue, and I certainly don't feel that it traumatized me in any way. In some ways, it might have even been healthy. Regardless of your thoughts on that, I still ended up reading the story, so it's really a moot point.
And back then, similar scenes in romance books were very common in the mid-80's. In fact a lot of explicit acts took place in the romances I read when I was a pre-teen. I had a conversation with a friend almost 2 years ago about Devil's Embrace by Catherine Coulter, which I had read but didn't remember until she did a detailed recap of the plot, one I could have done without, btw. There is a lot of rape, including a brutal and graphic gang rape, that happens to the heroine. I shudder to even think about such violence to this character. It turns my stomach to imagine it, which I'm trying hard not to do.
And there have been many others other the years that have involved rape, though most not quite as horrifying. Still, it's rather unsettling to remember that so many of the romances I read back then contained at least one rape scene, and that I rarely gave it much thought, though I knew it was wrong. I could say I was too young to know any better, but was I? Really? I recall one author (again, cannot remember the name) who always wrote a similar plotline: hero and heroine meet, hero rapes heroine, they fall in love. Every single one of her stories was like this. Was I conditioned to accept this behavior?
Now I've heard the arguments about rape being a common occurrence, especially during a certain time period. Rationally, I understand that, and how much worse women's lives worse compared to modern times. I certainly don't want to gloss over those horrors. But the general reason I read romance is for the HEA, not the brutality one person can do to another, which is made even worse when the violator claims to love the person they are abusing.
Now, fast-forward about 10 years, and you see a significant change in many of the romances out there. Rape is not so common, and definitely not welcome in romance. And as time passed and it happened less and less, I became un-desensitized to it. So when I did come across a story that involved rape, it was overwhelmingly difficult to read, regardless of the motivation of the author. I go back to my argument that I read these books for the romance, not necessarily the realism of the time period.
Now I know some allowances may be made to Urban Fantasy and some paranormal stories. Not exactly a fan of the extreme violence, but I am willing to agree that these are grittier, more realistic subgenres, and the events in the story tend to get ugly and graphic. So though I might not like it, I read these stories with my loins girded and reluctant acceptance that there may be some kind of brutal assault committed on someone.
And there may be other things about romances and all the subgenres that are attached to romances that are disturbing to you. It could be child abuse, or animal cruelty. Perhaps mental illness. It could be due to personal experience or just an aversion to something specific. I've discovered that the elements that bother me most are when the person to which the act is being committed against is humiliated in any way - even if it's not a physical act - it really, really bothers me. That is MY personal hot button. If someone is made to feel shame and degradation, then it's gone too far. I don't want to read it. That's when my line has been crossed, and I can't enjoy the story anymore. Even if there is comeuppance to the responsibility party, the experience has been ruined for me. Pain would be another hot button for me, but in some cases, the pain might not be unwelcome. Though it makes me cringe, I will grudgingly accept it if it's consensual and embraced by the person receiving the pain.
It's a bit of a dilemma to avoid hot buttons sometimes. How do I prepare myself without scoping reviews for every single book I read? I guess I take my chances, and not let myself obsess over it. In most of the stories I read, it's not even an issue. So I guess I should just let it go and focus on the good stuff. And try to learn something from the experience.

What about you: when has your line been crossed?

What's the most disturbing romance you've ever read?

Does it bother you when stories are too graphic?