Thursday, January 01, 2009: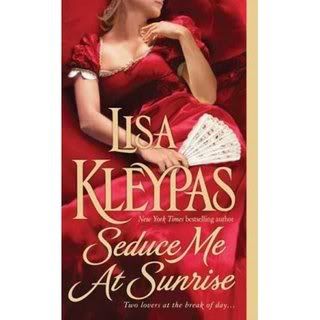 As seen on RNTV:

Top Pick for Historical Romance: "Seduce Me At Sunrise" by Lisa Kleypas (Honorable mentions to "Duke of Shadows" by Meredith Duran, "Broken Wing" by Judith James & "Like No Other Lover" by Julie Anne Long) - I chose SMAS because it was such an emotionally-charged story that stayed with me long after I read it. Kev loved Win so much, and it was a feeling that scared him beyond anything else because he truly believed he didn't deserve her. Instead of accepting Kev's decision, Win chose to fight for him, and prove that they belonged together instead of apart. It was just such a beautiful love story.

Top Pick for Contemporary Romance: "Blue-Eyed Devil" by Lisa Kleypas. This story gets my pick for best contemporary because Ms. Kleypas took a horrible situation that the heroine was going through and made her a strong character, one that was brave enough to save herself, and find love again. It was painful, yes, but poignantly so, and the end result was immensely satisfying. It just proves that Ms. Kleypas is considerably talented writing in any genre.

Top Pick for Paranormal Romance: "When Twilight Burns" by Colleen Gleason (is this paranormal romance? Well it gets my vote). Here's where we get a sense of what Victoria truly wants, and it's both exhilerating and heartbreaking to see her choose between two amazing men. Also, I feel Victoria is one of the strongest heroines, yet she's ultimately human, and tends to make mistakes as we all do. She's not invincible, and I believe this is what makes it easier to relate to her as a woman.

Top Pick for Urban Fantasy: "Cry Wolf" by Patricia Briggs. I'm not a huge reader of urban fantasy, but I loved the mythology behind the Alpha/Omega existence. Anna is a woman who has no clue as to her strength, what she's truly capable of as an Omega, and Charles is just the man to bring it to her attention and worship her in the way she deserves. He doesn't coddle her, though he does protect her, but sees her as being his equal and takes pride in her abilities instead of being intimidated by them.

Top Pick for Romantic Suspense: "Death Angel" by Linda Howard. A different kind of a love story, but one very potent and unforgettable. The hero and heroine don't start out very likeable, but as we get to explore their pasts and the paths they've chosen, we begin to understand them, and I think sometimes the best love stories are the ones that leave you feeling a little uncomfortable because they are not black and white, but full of shades of gray.

Top Pick for Erotic Romance/Erotica: "Wicked Burn" by Beth Kery (Honorable mention: "Flat-Out Sexy" by Erin McCarthy). I love erotic romance, and read a lot of it, but it's been a long time since I've read such a sexy book that was so incredibly emotional at the same time. The characters initially communicate physically, both feeling a strong sexual connection between them that neither can walk away from. This connection becomes stronger as they let their bodies do the talking, and it totally worked within the context of this particular story. Bold and evocative, "Wicked Burn" brings two lost souls together in the most basic, primitive way, one that leads them to a powerful and empowering love.

Top Pick for Debut Novel: "Just the Sexiest Man Alive" by Julie James. Snappy, sexy, fun and interesting, I was amazed that this was the author's first novel. I kept flipping the pages, wanting more and more. I loved how strong and smart the heroine was, how she put the arrogant hero in his place. I loved seeing the change in them both, and how they genuinely liked each other and got to know each other before falling in love. It made it all the sweeter when it finally did happen. Ms. James is an author to watch.

Favorite Hero: Kev Merripen from "Seduce Me @ Sunrise" - Kev was unforgettable. Truly a tortured hero, one who would give his life again and again for the woman he loves, and lives only for her happiness, even if he can never have her himself. Another thing I liked about him was that he was also smart, and creative, and could manage an estate and became the person everyone else turned to when they needed someone in charge. Kev proved to be a rare and wonderful hero, and nothing pleased me more than when he let himself be loved.

Favorite Heroine: Win Hathaway from "Seduce Me @ Sunrise" - no silly, insipid heroine could have captured Kev the way Win did. She may have appeared fragile, but underneath was a strength and a determination to build a life with the one man she can not forget. And with the courage of a woman in love, she fights to win him. I love a heroine who is not what she seems, and Win proves she's way more than a delicate lady. She is a brave, formiddable woman who sets out to do the impossible, and succeeds.

Book of the Year: "Seduce Me @ Sunrise" by LK & "Trial By Fire" by Jo Davis. This is a tie because I believe both of these books are grand in their own right. SMAS because of the incredible love story between two people who were destined to be together, even if one of them couldn't see it that way.

TbF because of, well, Howard. Here was a gorgeous, capable hero who couldn't see why he was so special, and the heroine who made him realize that despite all he'd suffered, he could be happy, that he deserved it, and she wanted to be the woman who convinced him of that. Howard was also amazing because he loved Kat just as she was, and didn't want her to change. Kat was not the perfect, thin, biddable woman, and she was completely comfortable in her own skin. She was a very empowering heroine, and one I would like to see more of in the books I read.
*************
Favorite Series 0f 2008: Normally I would answer the "In Death" books, but I'm only up to book #20 and I haven't been keeping up with them - my goal for 2009. So I am going to go with Colleen Gleason's Gardella series, which I started, and devoured, in 2008. Being a huge fan of BtVS, I felt these books pay tribute to the beloved series but offer a fresh approach to being a vampire slayer, and I would love it if Colleen wrote a present-day Gardella story. I truly believe it can be done.
Favorite author of 2008: Hmm, tough one, since I met so many, and really enjoyed talking with them. But I'm giving my vote to Lisa Kleypas, who I haven't met, but who elicited such an emotional response from me with at least two of her books this year - "Blue-Eyed Devil" and "Seduce Me at Sunrise". She is an icon, and I hope one day I do get the chance to meet her.
Favorite 2008 re-read: Anne Bishop's Black Jewels Trilogy. I believe I first read this series about 10 years ago, and I don't remember what prompted me to get them, but am I ever so glad I did. Ms. Bishop has created a fascinating world filled with unforgettable characters, incredible power, and a love that transcends time. These stories have never been far from my mind, and I was glad to see several of my friends picking them up for the first time and falling in love with them, just like I did many years ago.
Favorite Review site of 2008: RomanceNovel.TV And not just because I became a reviewer there in '08. Why did I choose this site? Because out of any other website, I got more wonderful book recommendations in 2008 from RNTV than any other, hands-down. I had heard of RNTV since the beginning, but it wasn't until this past year that I really started looking into what they had to offer, and it turned out that it was the perfect kind of website for someone like me. I love how Marisa & Maria have made it such a friendly community, where everyone feels like a part of the process, and the recommendations are numerous and varied.
Favorited Reader Review site of 2008: BookBinge! Aw I love these guys - they're smart, funny, outspoken, and they are very passionate about books. They have great author reviews, awesome contests, and offer honest opinions on the books they loved, or didn't. BB has evolved over the years, gotten better, and I think they strive to bring us the best blog possible, never willing to settle for mediocre.
Favorite blog: Na uh, ain't going there. It's too hard to narrow it down to one, but I would like to give a shout out to some of the blogs I've visited in 2008, whether for the first time, or for the 100th, so in no particular order: Adventures in Katidom, Ramblings on Romance, B(u)y the Book, Plotmonkeys, Deadline Hellions, Babbling About Books, Ahhhh Romance, Happily Ever After, Kelly Nyrae's Blog, Laurie's Laudanum, RomanceBookWyrm, the Book Smugglers, Sula's Space, DIK blog, What Women Read, Ann Aguirre's Blog, Colleen Gleason's blog, Good Reads, LeeAnn 101, Fresh Fiction, AccessRomance, Alison Kent's blog, HelenKay Dimon's blog, Sylvia Day's blog, Romantic Times, Kate Davies' blog, Lucy Monroe's blog, Vamps & Scamps...and a whole boatload of others which I am ashamed to have not mentioned here, damn bad memory.
Here's to a even better reading year in 2009!