Monday, December 01, 2008: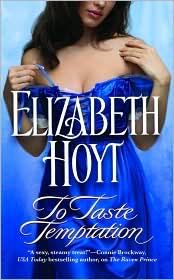 Mass Market Paperback: 384 pages
Publisher: Forever (May 1, 2008)
ISBN-10: 0446406910
ISBN-13: 978-0446406918
EVEN THE MOST REFINED LADY
Lady Emeline Gordon is the model of sophistication in London's elite social circles, always fashionable and flawlessly appropriate. As such, she is the perfect chaperone for Rebecca, the young sister of a successful Boston businessman and former Colonial soldier.
CRAVES AN UNTAMED MAN
Samuel Hartley may be wealthy, but his manners are as uncivilized as the American wilderness he was raised in. Who wears moccasins to a grand ball? His arrogant disregard for propriety infuriates Emeline, even as his boldness excites her.
TO RELEASE HER PASSION…
But beneath Samuel's rakish manner, he is haunted by tragedy. He has come to London to settle a score, not to fall in love. And as desperately as Emeline longs to feel this shameless man's hands upon her, to taste those same lips he uses to tease her, she must restrain herself. She is not free. But some things are beyond a lady's control…
Emeline is a prickly lady, one who is command at all times of her emotions and her environment. Having lost her beloved young husband years ago and her dear brother more recently, she refuses to not be in control at all times.
But one look at Samuel Hartley and all that hard-won control goes right out the window. From the way he dresses to his arrogant manner, he pushes all her buttons. She argues with him, fumes at him, and is completely rude, which is unlike the lady-like face she shows in public.
And Samuel loves her for it. Haunted by a betrayal that tortured many of his comrades, Samuel is an Amercan in London on business, as well as looking for a traitor. He ends up living next door to Emeline and asks her to tutor his younger sister. The lady completely intrigues him, and he does his best to ruffle that tight control she prides herself on.
These two sizzle together. I love their chemistry, and Emeline's inability to stay away from the one man who sees past the facade she's created and prefers her that way. I like how Samuel is trying to right a wrong that was done to him and so many of the soldiers tortured or killed in his regiment.
Inevitably, they give into their intense lust. Their lovemaking is raw, earthy and swoon-worthy hot, and Emeline cannot resist surrendering to him again and again, even though she's engaged to another man she's known all her life. This hurts Samuel, as he falls in love with her, and cannot let her go.
Emotional, sensual, this love story was purely wonderful. I liked everything about it, from the arguments Samuel and Emeline constantly have, to their attraction, to Samuel's search for a traitor. I liked his affectionate relationship with his much younger sister, and Emeline's relationship with her son. She also has a close friend in Melisande, and they talk just like girlfriends do, and Melisande does not judge Emeline, but is there to listen and care for her, as friends do.
Added bonus: the fairy tale. This one tells the story of Iron Heart, and a piece of the story is revealed at the beginning of every chapter. Most enjoyable.
Rating: **** 1/2 out of *****
*****
Mass Market Paperback: 400 pages
Publisher: Forever (November 1, 2008)
Language: English
ISBN-10: 0446406929
ISBN-13: 978-0446406925
THE ONE THING HE CANNOT REVEAL
For years, Melisande Fleming has loved Lord Vale from afar . . . watching him seduce a succession of lovers, and once, catching a glimpse of heartbreaking depths beneath his roguish veneer. When he's jilted on his wedding day, she boldly offers to be his.
TO THE ONE WOMAN HE MOST DESIRES
Vale gladly weds Melisande, if only to produce an heir. But he's pleasantly surprised: A shy and proper Lady by day, she's a wanton at night, giving him her body—though not her heart.
IS HIS DEEPEST NEED . . .
Determined to learn her secrets, this sinner starts to woo his seductive new wife—while hiding the nightmares from his soldiering days in the Colonies that still haunt him. Yet when a deadly betrayal from the past threatens to tear them apart, Lord Vale must bare his soul to the woman he married...or risk losing her forever.
I love unrequited love stories, though I always prefer the hero to be in love with the heroine, but I liked Melisande a whole lot so yeah, turnabout is fairplay. Jasper, as described in "To Taste Temptation", is not really a handsome man, certainly nothing like the Nathan Kamp instep cover. But he has an engaging and charming personality and is adored by many, and loved deeply by Melisande, who saw a side to the rake that most never do, and though he doesn't know it, that moment stayed with her over the years.
When he is rejected almost at the altar, the second time a woman had broken off an engagement with him, Melisande decides to take matters in her own hands and takes an opportunity during a vulnerable moment that pays off: Jasper agrees to marry her.
Jasper is puzzled by the reserved, almost invisible woman, but he sees beyond her nondescript coloring and quiet ways into the intelligent and perceptive soul she hides from the rest of the world. He also experiences her passion, and he's captivated that this rare gem could possibly want a man like him, tortured by visions of the horrible things that happened years ago. Hunting a traitor that supposedly was not the one that hanged at Newgate prison, he's driven to discover who left them all to die. And he will protect his wife at all costs.
This was a lovely story, and though I didn't love it as much as the first book, it had it's endearing qualities. Melisande was used to being the one no one noticed while Jasper lived to be the life of the party. Yet together they meshed so well, and when Jasper finally discovers his dear wife loves him, I think it starts to heal the wounds he's carried for so long. And without giving away too much, the present that Jasper gives to Melisande at the end of the book is just so perfect because it symbolizes the treasure she truly is to him.
Another fairytale graces the beginning of every chapter , this one being "Laughing Jack". Very appropriate for this story.
Rating: **** out of *****
*****
Coming soon....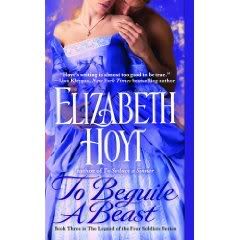 Mass Market Paperback: 384 pages
Publisher: Forever (April 28, 2009)
ISBN-10: 0446406937
ISBN-13: 978-0446406932
CAN A WOUNDED BEAST . . .
Reclusive Sir Alistair Munroe has hidden in his castle ever since returning from the Colonies, scarred inside and out. But when a mysterious beauty arrives at his door, the passions he's kept suppressed for years begin to awaken.
TRUST A BEAUTY WITH A PAST . . .
Running from past mistakes has taken legendary beauty Helen Fitzwilliam from the luxury of the ton to a crumbling Scottish castle . . . and a job as a housekeeper. Yet Helen is determined to start a new life and she won't let dust-or a beast of a man-scare her away.
TO TAME HIS MOST SECRET DESIRES?
Beneath Helen's beautiful façade, Alistair finds a courageous and sensual woman. A woman who doesn't back away from his surliness-or his scars. But just as he begins to believe in true love, Helen's secret past threatens to tear them apart. Now both Beast and Beauty must fight for the one thing neither believed they could ever find--a happy ever after.

Labels: Elizabeth Hoyt, quickie reviews