Monday, November 24, 2008:

What a way to kick off the weekend! My friend is haviing a birthday next week, but with our schedules we decided to celebrate early this year. Not sure what to do, I remembered that a co-worker of mine works at The Improv, and I thought that would be a lot of fun. She loved the idea. She left her kids at home and we went out drinking and having a good time. The comedy acts were part of the
Third Annual Jameson Comedy Tour
, and the comedians highlighted were: Michael Loftus, Steve Byrnes, Bert Kreischer, and Danny Bevins.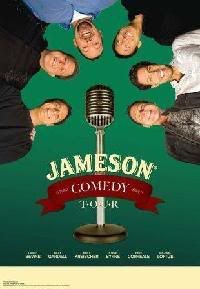 We decided to have dinner there, and got some pretty good seats. The food wasn't expensive but of course the alcohol was - the martinis were just yummy. I had 2 Mango Tangos, and they went down like water. And OMG, we laughed so much! My throat was hurting by the end of the night, but it didn't keep me from laughing even more. I am someone whos not easily offended, so listening to these guys talk about their wives/girlfriends and some pretty gross stuff was more amusing than offensive. Bert talked about his wife giving birth, and it was more than I ever needed to know, thank you very much. And then at the end Bert and Steve put together their very own "boy band" and I almost peed my pants, it was so freakin' funny. Tix were only $19, and it was well worth it for 2 hrs and 15 minutes of non-stop laughter. I would definitely recommend going if they come to your town.
*****
From Yahoo! Movies:
TWILIGHT is an action-packed, modern-day love story between a teenage girl and a vampire. Bella Swan (Kristen Stewart) has always been a little bit different, never caring about fitting in with the trendy girls at her Phoenix high school. When her mother re-marries and sends Bella to live with her father in the rainy little town of Forks, Washington, she doesn't expect much of anything to change. Then she meets the mysterious and dazzlingly beautiful Edward Cullen (Robert Pattinson), a boy unlike any she's ever met. Edward is a vampire, but he doesn't have fangs and his family is unique in that they choose not to drink human blood. Intelligent and witty, Edward sees straight into Bella's soul.
Soon, they are swept up in a passionate, thrilling and unorthodox romance. To Edward, Bella is what he has waited 90 years for - a soul mate. But the closer they get, the more Edward must struggle to resist the primal pull of her scent, which could send him into an uncontrollable frenzy. But what will Edward & Bella do when a clan of new vampires - James (Cam Gigandet), Laurent (Edi Gathegi) and Victoria (Rachelle Lefevre) - come to town and threaten to disrupt their way of life?

ABOUT TWILIGHT: Based on the #1 New York Times Best-Selling series with over 17 million books in print by Stephenie Meyer, TWILIGHT is a cultural phenomenon, with a dedicated fan base that eagerly awaits this movie. There are over 350 fan sites devoted to TWILIGHT, and it has been chosen as the New York Times Editor's Choice, a Publishers Weekly Best Book of the Year, Amazon's "Best Book of the Decade...So Far", Teen People's "Hot List" Pick, and The American Library Association's "Top Ten Best Book for Young Adults" and "Top Ten Books for Reluctant Readers," among others. Critically acclaimed director Catherine Hardwicke brings to life this modern, visual, and visceral Romeo & Juliet story of the ultimate forbidden love affair - between vampire and mortal.

Yeah I saw it. Haven't read any of the books and really didn't think Robert Pattinson was all that cute, but I like vampires and love stories, and my friend has a 10-year old daughter who wanted to see it, so we went. Thankfully the theatre wasn't packed with squealing pre-teens and we got fairly decent seats.
And...I liked it. A lot. Not knowing much about the story going in, other than the obvious (Edward's a vampire, Bella is a girl who falls in love with him), I have to admit I was pleasantly surprised by it. I liked Bella (Kristen Stewart) a whole lot. She was not the kind girl who worried about make-up or being popular, and all the attention she gets when arriving at a new school is a bit unsettling for her. She's immediately drawn to Edward (Robert Pattinson) from the first moment she sees him, apparently attracted to that which is mysterious and not exactly welcomed by others with open arms. She's also trying to adjust to her new life; living with her father is awkward and uncomfortable at the best of times, and her classmates are more interested in prom and hooking up. Mostly she prefers to be alone. But Edward has some kind of strange effect on her, and even when it's apparent he doesn't care much for her, she can't keep away.
Edward initially comes across as cold and uninviting. His reaction to Bella when she's seated next to him in class borders on revulsion, and Bella veers between being hurt and being pissed off. He tries to keep away from her, but when she's involved in a serious accident, he comes to her rescue. His unbelievably quick reflexes and strength confuse Bella, and she just can't let it go. Again and again Edward appears when she needs him most, and the longer they are together, the more questions she has, until one day she can't ignore the truth: Edward is a vampire.
"Twilight" is everything you'd expect in a teen movie: angst, first love, having parents that don't understand you, trying to fit in at school, rivals. What was cool between Bella and Edward was that though they were incredibly attracted to one another, they spent a significant time just talking. Once Edward doesn't have to hide anymore, he opens up to Bella and she falls deeper and deeper in love, obsessively so. They share some pretty steamy kisses but Edward doesn't trust himself around her, yet he also can't stay away from her, so he finds more ways that they can be together. He even introduces her to his family, most of whom welcome her, but not everyone is pleased to have a human aware of their existence.
And was it just me or was Bella's dad (played by Billy Burke) kinda hot? It's gotta be the blue-collar thing (he's a cop in the movie) and I kept wishing there would be a reason he has to take off his shirt.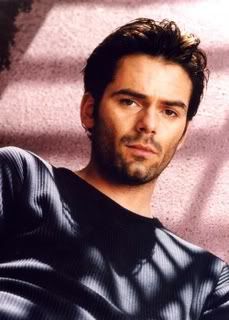 The movie is not Academy-awarding winning drama here, but at times it's poignant, sweet, funny and a bit dangerous. It's not very gory, and has some elements of violence. It appealed to me more than I thought it would, and having had the first book for over a year now, I think it's time I start reading it and risk becoming another fangirl. It's a chance I'm willing to take.
So what have you been up to lately?