Sunday, November 16, 2008: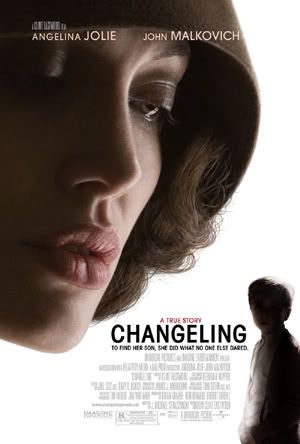 Inspired by actual events that occurred in 1920s-era Los Angeles,
Clint Eastwood
's The Changeling tells the story of a woman driven to confront a corrupted LAPD after her abducted son is retrieved and she begins to suspect that the boy returned to her is not the same boy she gave birth to. The year was 1928, and the setting a working-class suburb of Los Angeles. As Christine (
Angelina Jolie
) said goodbye to her son, Walter, and departed for work, she never anticipated that this was the day her life would be forever changed. Upon returning home, Christine was distressed to discover that Walter was nowhere to be found. Over the course of the following months, the desperate mother would launch a search that would ultimately prove fruitless. Yet just when it seemed that all hope was lost, a nine-year-old boy claiming to be Christine's son seemed to appear out of thin air. Overcome with emotions and uncertain how to face the authorities or the press, Christine invites the child to stay in her home despite knowing without a doubt that he is not her son. As much as Christine would like to accept the fact that her son has been returned to her, she cannot accept the injustice being pushed upon her and continues to challenge the Prohibition-era Los Angeles police force at every turn. As a result, Christine is slandered by the powers that be, and painted as an unfit mother. In this town, a woman who challenges the system is putting her life on the line, and as the situation grows desperate, the only person willing to aid her in her search is benevolent local activist Reverend Briegleb (
John Malkovich
). - - Jason Buchanan, All Movie Guide
I didn't really have a desire to see this movie the first time I saw the previews. I actually thought it was some kind of ghost or paranormal movie, based on the title. But I was looking for something to see and one of my co-workers mentioned liking this one, so last weekend I went and saw it with a friend I haven't seen in awhile.
And, I liked it. A lot. Once you get past the fact that it's Angelina Jolie, I began to really get into the story, which is based on
true events
. Angelina plays Christine Collins, a single mother who loves her son more than anything. Planning to take him to the movies, she's disappointed one Saturday when she's called into work. When she gets home that evening, expecting to find Walter in the house, he's nowhere to be found.
She goes looking around the neighborhood, thinking he might be out playing, but when she can't find him anywhere, she calls the police, who inform her they can't do anything for 24 hours. She's upset, but understanding. The next day the cops show up and take her information. Everyday, she calls anyone she can think of, asking if they've seen her son. Reverend Briegleb mentions Mrs. Collins during his public radio show, and rants about how ineffective and useless the Los Angeles police department is. Through it all, Christine goes to work, and spends every spare moment trying to find her missing son.
Feeling the pressure, the police chief urges his captain to resolve this case. Months later, Mrs. Collins finally receives a phone call that states her son is alive. Finally believing her nightmare is over, she races to the train station and up to the platform, ignoring both police Chief Davis and Captain Jones, who have orchestrated it so the media is there to witness this excellent example of policework.
Only the young boy who walks off the train is not her son. She knows it, and is confused when the captain tries to convince her otherwise. Realizing she's not listening to him and that the media are just feet away, Captain Jones insists that Mrs. Collins is upset and that she should take the boy home for a "trial period". Unsure of herself and feeling badly for the child, she takes him home and treats him well, but continues to go to the police and urges them to find her son. Captain Jones doesn't understand why she just won't go away and accept that the boy is in fact hers. Frustrated with her, he finds means to prove Mrs. Collins has her son, even going as far as to bring in a doctor who claims without a doubt that the boy in her care is in fact her son, and that the discrepancies in his height and other physical differences are the result of his ordeal.
Meanwhile, Detective Ybarra is investigating another situation at a chicken farm in Wineville, CA. He's set to deport the young Sanford Clark back to Canada when Sanford admits to being involved with killing some kids along with his older cousin Gordon Northcott. At first the detective doesn't believe him, thinks it's just a ploy so he doesn't go back to Canada, but when they go back to the farm, they discover bones and other evidence that some small children had been killed. Ybarra has Sanford look at some pictures of missing kids, and try to identify all the kids that may have been murdered. Walter Collins is among those Sanford recognizes.
When Mrs. Collins still refuses to believe that the boy found is her son, she angers the police department. Reverend Briegleb warns her of this, and decides to hold a press conference with her there, but before the two meet, the police intercede and Mrs. Collins is brought to the psychopatic ward, where Dr. Steele declares her delusional and forces her to take medication. While trapped in the hospital, Christine befriends another patient who explains to Christine how it "works" here, and how to be careful. Dr. Steele informs Christine that she will be released if she signs a form stating that the boy is in fact her son and that she doesn't hold the police department responsible for any wrongdoing. She refuses.
My thoughts:
(According to Wikipedia, "the term 'changeling' refers to a being in West European folklore and folk religion, typically described as the offspring of a
fairy
,
troll
,
elf
or other
legendary creature
that has been secretly left in the place of a
human
child. The apparent changeling could also be a stock, an enchanted piece of wood that would soon appear to grow sick and die. A human child might be taken due to many factors: to act as a
servant
, the love of a human child, or
malice
.
[1]
Most often it was thought that fairies exchanged the children. Simple charms, such as an inverted coat, were thought to ward them off. The best way to get rid of a changeling is to make them laugh. The parents of a
changeling child will have no choice but to take back their baby and leave the real baby behind.")
I decided to stop with the plot of the movie where I did for two reasons: One, in case you haven't seen the movie and don't wish to know everything that happens, and also because you can find out about the movie
here
(major spoilers). Plus, I know I will be all over the place with my thoughts, because I switch from what my feelings were to actual events, so I do apologize for veering all over the map here, and definitely encourage you to check out the real story behind the movie, as my thoughts will be brief and will try not to give too much of it away for those who only know of the preview of the movie and nothing else.
Despite the somber and at times disturbing subject matter, this was an engaging, absorbing film. Set in 1928 Los Angeles, it was fascinating to see the clothes and hairstyles and homes and cars from that time period. Then there's Mrs. Collins worked as a phone operator, actually moving around on roller skates as she dealt with employees and issues. Angelina portrayed Christine Collins as a very maternal woman who was good at her job, appeared to be well-liked, and who cared very much for her son. Maybe it's because she has so many children of her own, but the pain and heartache she brought to her character felt very real, very believable, as if she'd lost one of her own children.
Interestingly enough, "The Changeling" is based on the screenplay written by J. Michael Straczynski, a former LA Times journalist, who was given the lead by a friend and researched the LA City Hall's archives in order to tell Collins' story as accurately as possible, and because I was so fascinated by it, I have been doing a little research of my own about the actual historical events. What I liked about this movie too is that they tried to stay as true to the real situation as much as possible, which was easily accomplished because of the extraordinary circumstances that happened to Christine almost from the moment her son went missing. I like that Mr. Straczynski took the time (about a year I believe) go look through the records and read the testimony and eye-witness accounts of what really happened in order to write the story that was brought to the screen.
It was appalling how Christine Collins was treated by the police department, from their accusations that she was a bad mother, to forcing her into the psychopathic ward at the hospital, where she was made to look guilty and crazy no matter what she said. She was very cooperative with the police until they tried to force her to accept another child as her son, and then she became fierce and determined. I cannot imagine what she suffered as a parent nor as a human to be treated in such a way. Sidenote: The
19th Amendment
was ratified in 1920, yet places like mental wards were used to keep women in line, and as long as a woman disagreed with a man in power, like Christine Collins did over and over, she was punished for it.
What I want to know is: whatever happened to Christine Collins? That seems to be a bit of a mystery, as she faded into obscurity, having been sufficiently burned by the media, though it's said she died in 1935, never having found her son, but then other accounts have her living to as late as 1954. If there is anything to take away from this story, it's that this brave woman took on a corrupt system and some of the laws and practices were forever changed because she did not give up her fight.
Even now, a week after seeing this movie, I continue to think about it. It's a powerful story, one that is very difficult to watch. I think anyone with children will especially have a hard time viewing it. But then there's also the treatment of the women who were in the psychopathic ward, and how helpless and defenseless they were, torn between trying to tell the truth and their desperation to get out of there. It's a long film, almost 2 1/2 hours long, but it flew by, that's how caught up in it I was. So yes, I do recommend it, and liked it very much, though there were moments that made me want to cry, and other moments I wanted to hit a cop. It definitely engaged my emotions.
Are you as fascinated with movies based on true stories as I am?
If so, have you Googled it already to find out more?
Rating: ****1/2 out of *****
Labels: Angelina Jolie, movies