Friday, November 28, 2008:
A few weeks ago I had a post about t.v. and the shows people like to watch. I admit I've been out of the loop for the last 4-5 years, cutting back on my t.v. watching substantially, getting rid of cable which made a world of difference, especially financially. I got quite few great suggestions, many of which I've added to my Netflix Q.
The first show up is "Supernatural". I liked the idea of it because it kinda reminded me of "The X-Files" but in a campier, more fun way, and it seemed a little more grounded in reality, such that it were. It explores some of the myths and urban legends like Bloody Mary, the Woman in White, and the Wendigo. Essentially the show is about these two estranged brothers whose mom was murdered by a demon and whose father is obsessed with hunting it down. When their father goes missing, the older brother reconnects with the younger brother and plans to go after their dad. Along the way they bond, and have the normal conflicts any family would, though underneath it all is a grief tht never goes away. It's this connection that really drives the story
Jeffrey Dean Morgan (from "Grey's Anatomy" and "P.S. I Love You") plays John Winchester, the dad of Sam & Dean Winchester and whose wife was violently killed 22 years earlier. JDM is one rugged and sexy guy, and can I just say that since watching season 1, I keep magining him as every single hero in all the romances I've been reading lately. I just didn't want to picture anyone else.
Can you see why???

I've been familiar with Jensen Ackles since his soap gig on "Days of Our Lives" which I used to watch all the time back in the day, and then "Dawson's Creek", where he played the love interest for Michelle Williams. Lucky girl. Wow has he grown up into quite the hottie. Is it just me or does anyone else spend at least half their time watching the show and staring at his lips? I miss a lot of what's going on in the episodes doing this. Not that I really care. It's a good show, but I'd rather watch Jensen talk. Or better yet, see him take his shirt off.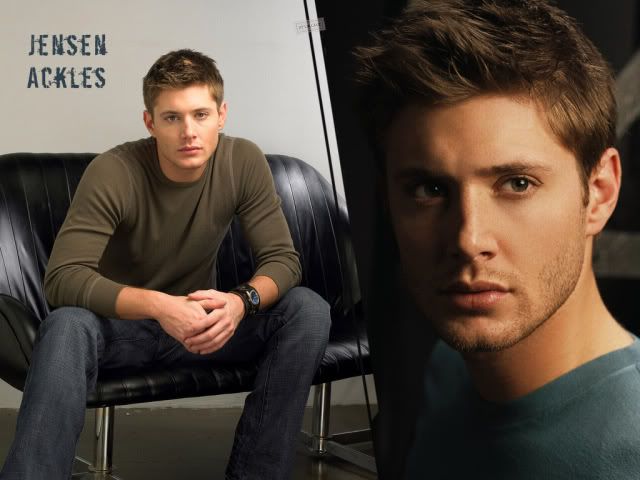 Check out Sarah's blog for a the "Eye of the Tiger" clip with Jensen

And Jared Padalecki used to be on "Gilmore Girls" which I watched occasionally, thinking of him as the "nice" boyfriend. I had a crush on Milo's character instead though. He was the bad boy. Anywayz, at first I thought he, Jared, looked too young, but the more I watch, the cuter he's become. I know that at first he drove me a little nuts cuz he's not the best actor, but then I stopped worrying about it. When he smiles he's got these adorable dimples, which never really did anything for me (i.e. Tony Romo) but on Jared, I like. He should smile more. Yeah, he's gotta be at least 10 years younger, but whatever. He's a cutie.
And if you watch the "Special Features" at the end of Season 1, you can really see how adorable these two are. Looks like they have a lot of fun doing the show. And it makes me impatient to get my hands on Season 2.
Which hotties on t.v. are you into these days?
Labels: Jared Padalecki, Jeffrey Dean Morgan, Jensen Ackles