Thursday, January 08, 2009: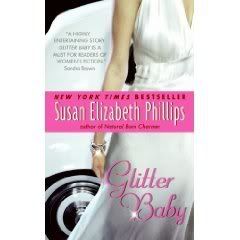 Welcome to the world of the Glitter Baby
Fleur Savagar is the most beautiful woman in the world . . . to everyone but herself. With her oversized hands and paddle-boat feet, her streaky blond hair and funny green eyes, she lives a life filled with secrets that began before she was born. That was when her bewitching mother left home to find James Dean and met Errol Flynn instead. Now Fleur has to grow up quickly, and life won't make that easy.
Jake Koranda is both New York's most brilliant playwright and Hollywood's hottest actor. Difficult, talented, and tormented, he has no patience for international glamour girls, not even ones with beautiful bodies and smart-aleck mouths. But there's more to the Glitter Baby than shine, and Fleur's tougher than Jake expects. Even with the odds stacked against her, she's fiercely determined to discover the woman she's destined to be.
An ugly duckling who can't believe she's turned into a swan . . . A tough-guy movie star with a haunted past . . . In a land of broken dreams, can two unlikely lovers trust their hearts?
"Glitter Baby" reads like a sudsy soap opera novel like those remniscent of Danielle Steel, Judith Krantz, and Jackie Collins, though not quite as steamy. Twenty years ago I would have probably loved this book, but reading it now was the equivalent of a bunch of empty potato chip calories for me: I couldn't stop after one page but it didn't offer much substance.
I liked Fleur, mostly. She was incredibly beautiful but had absolutely no idea what all the fuss was about. This wasn't just an act; she truly didn't see what others saw in her. Jake is a sexy and charismatic actor and writer, tormented by his past. Of course he thinks Fleur is too good for him. Belinda, Fleur's mother, is self-absorbed and ditzy, and lives vicariously through her daughter's modeling and acting career. Fleur's stepfather is a creepy, powerful man who is obsessed with beauty. Toss in some golden movie stars of a generation gone by, a betrayal between a mother, daughter and the man she loves, a short-lived career of epic porportions, and you have the frothy dish called "Glitter Baby".
I basically read this because it was a SEP book, and it was enjoyable, but rather forgettable. I know it was re-written (see this post at BookBinge) and I've never read the previous version, so I don't know if it's better or worse. I guess I would recommend it for fans, but don't feel like I would have missed a substantial body of work if I hadn't read it. It's a good read, and it did remind me of those epic sudsers from the early 80's. Now I can say I read it.
Rating: **** out of *****
Labels: quickie reviews, SEP