Thursday, June 07, 2007:
I love old movies, and this one has a romantic quality to it that fits right in with some of my favorite historicals. I saw this several years ago on AMC or TMC or one of those "C"'s and fell instantly in love with it.
"The Black Swan":

After receiving the governorship of Jamaica, former pirate Henry Morgan--now Sir Henry Morgan--dispatches his able first mate, James Waring (
Tyrone Power
), to dispense of his former henchman, the red-headed villain Captain Billy Leech (George Sanders) and his fighting ship, the
Black Swan
. In the process, Waring, also a pirate turned loyal subject, abducts Margaret Denby (
Maureen O'Hara
), a young woman of aristocratic bearing. Margaret fights him tooth and nail up until a battle between Waring and Leech changes the way she feels about her captor. Power brings a winning mix of gallantry and roguishness into the role of Waring, while the film itself harbors the perfect recipe for entertainment between its passionate romance, lush photography, adventure on the high seas, and outlandish characters from both fact and fiction.


******************************************



I love this movie. Everytime I watch it I still feel that familiar thrill that I get even though I know what is going to happen; I am impatient to be caught up in the action all over again. This movie came out a year before my mother was born (1942), yet I still enjoy watching it more than a lot of the recent movies that are out there on DVD. There's plenty of action, breathtaking sexual tension between Jamie and Margaret, and fun adventure.

When I first saw this movie, I really wanted to be
Maureen O'Hara
. Not only is she beautiful
and
being chased after by a deliciously wicked pirate, she is a strong, stubborn woman who speaks her own mind and is not afraid to stand up for herself. Just look at her in this picture - proud, determined, not cowering in a corner and hiding away from a challenge. Lady Margaret is a wonderful heroine, and sometimes I picture this character when I am reading a really enthralling historical. (That's a good thing).
Jamie
: You can lower your pistols, Lady Margaret.
Margaret Denby
: Unfortunately, I have no pistols.
Jamie
: Your eyes. I've looked into pistol barrels that are warmer.
---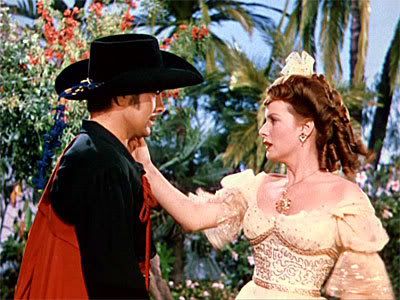 Jamie
: In Tortuga when a woman slaps a man's face, it means she wants him to grab her, over-power her, and smother her with kisses. I understand in Jamaica a gentleman must refuse such overtures.
~
Oh, but how could any woman resist for long when you have a sexy pirate whispering sweet nothings in your ear.....~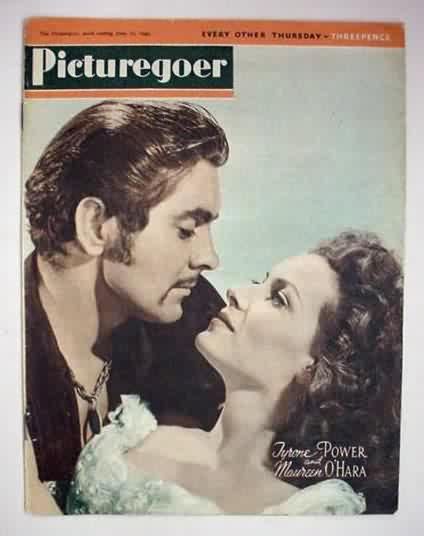 Jamie: I always sample a bottle of wine before I buy it. Let's have a sip, see if you're worth taking along.
*******************


Sigh............I wouldn't mind hanging out on a ship with Jamie boy.....especially as portrayed by Tyrone Power. There was something sweet and sexy and vulnerable about him, something that would thrill you whenever he was near. And Jamie was definitely not immune to Lady Margaret. Just the scent of her perfume had him thinking about her even when he didn't want to. Yep, he had it bad.


What is it about pirates? The wildness, the freedom, the idea of being above (?) the law and living life on your own terms...those are all very irresistible ideas. And I've always been attracted to the tousled, carefree type of hero. Sure, a man in uniform is nice, but give me a fireman or a pirate over a clean-cut suit anyday. Give me a man who wears his shirt unbuttoned, his face and body tanned, and his hands calloused. Heck, give me Jamie Waring.....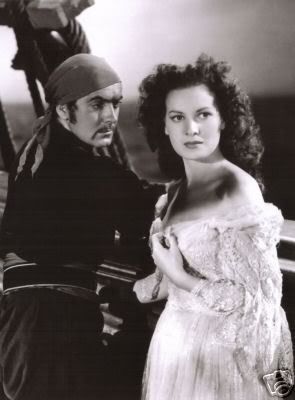 Do you love pirates?
What's your favorite pirate book?
Favorite pirate move?
Labels: Maureen O'Hara, The Black Swan, Tyrone Power