Monday, June 04, 2007:
Oh another fun weekend has come and gone! I'm feeling a little sad but definitely excited for next year's event. If you've never gone, and/or think it might be a bit intimidating, let me tell you that it's a friendly, relaxed and fun environment, the perfect place to meet some of your favorite authors.
Lori Foster
is just terrific, and very passionate about the causes she supports, and her partner in crime,
Dianne Castell
, is a hoot, always making sure everyone is having a good time. You can't help but feel a part of the reader/writer family at one of these things.
One of the authors responsible for the event:
Lori Foster, grandson Lucas and son Mason

Here are just a few of my highlights (in no particular order):
Meeting Kelley Vitollo! She hadn't been feeling well and didn't think she could come, but she made it, and she looked great. Plus she's so nice and her enthusiasm is contagious. I'm so glad she was able to make it.

Reader & awesome photographer

Michelle Breaux

showed up! It was great to meet her too, and get another of her calendars, which I actually gave to Kelley because she didn't have one and they are too gorgeous not to share.

Hanging with my "long-time" online pals Judy F, Laurie, LadyB, Lisa F, BadBarb, Joni, Kaleen, Barb S, Chris S...(hope I didn't miss anyone)

Creating a raffle basket. I bought a cute tote bag and filled it with Bath & Body Works products in sweet pea; Jaci Burton's "Wild, Wicked & Wanton" and Jill Shalvis' "Smart & Sexy" (two of my recent favorite books); a $10 Borders gift card; milk chocolate & dark chocolate and a Bendel candle in vanilla bean. It was won by a reader named Karen.
Standing: Lisa F, Laurie, moi, Judy F
Sitting: Lady B (Beth), Niny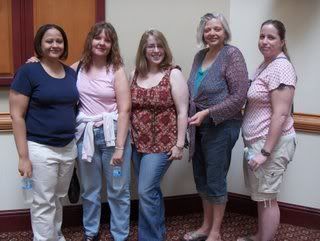 Kelley Vitollo, moi, Beth, Carolyn, Shana
I'll hopefully be posting more pictures and highlights of the next few days, and include final totals on the amount of money collected for the YWCA Battered Women's Shelter, the
Animal Adoption Foundation
, and the troops - causes that are all near and dear to the Lori Foster BookJunkys and Vamps and Scamps.
And mark your calendars: next year's event will be held at the same place June 8 -9, 2008!
Labels: 2007, memories, reader/author get-together